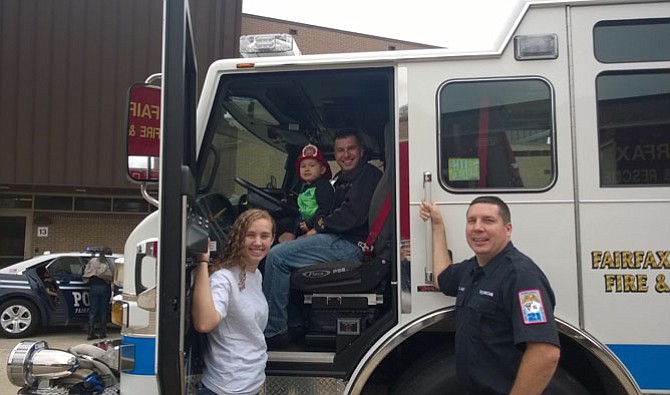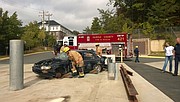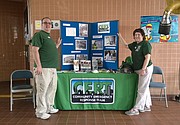 Fairfax County Fire and Rescue ended this year's Fire Prevention Week with an open house celebration Oct. 14, when first responders gave important safety tips to the general public through fun activities and live rescue demonstrations for kids of all ages.
Although crew members at the Fair Oaks Volunteer Fire and Rescue Company 21 gave it the old college try Saturday, it's hard to believe this fire station at 12300 Lee Jackson Memorial Highway did not score the highest points in this year's "Best Open House" award.
The winners of seven battalions, respectively, throughout Fairfax County are: Fire Station 39 in North Point, Station 2 in Vienna, Station 17 in Centreville, Station 8 in Annandale, Station 5 in Franconia, Station 11 in Penn Daw and Station 14 in Burke.
Fair Oaks crew should demand a recount because their house on U.S. Route 50 had it all: games, stickers, red plastic helmets, rescue activities for kids, information booths, food, fire trucks, ambulances and a zip-line demonstration.
They had drama at 1:44 p.m., when their heavy rescue truck rolled out in response to a car accident on Interstate 66. Upon their return, crew jumped out of the fire engine and showed open house visitors how they disassemble a wrecked car to extract people trapped in the vehicle by using serious power tools as big as a small child.
J.P. Wood, president of Company 21 highly recommends anyone with a health condition wear a medical alert tag to help emergency medical technicians and emergency room staff save their life.
As she teaches a toddler a simple fire safety technique called "stop, drop and roll," Fairfax County Fire and Rescue EMT Teresa Neves emphasizes "It's important to cup your face with your hands." She says this vital step protects a person's face from flames and lungs from smoke inhalation.
Residents who missed this event can learn best practices for a home escape plan from Sparky the Fire Dog in a video called "Every Second Counts: Plan 2 Ways Out!" Find this and other safety demonstrations on the National Fire Protection Association's website at www.fpw.org.