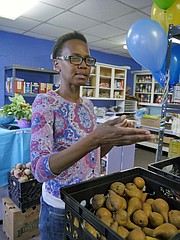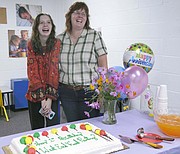 It is Monday afternoon, Oct. 23 at the West End Pantry located in Church of the Resurrection on Beauregard Street. Volunteers have been busy preparing for their food bank guests since 5:30 a.m. when they picked up leftover pastries and bread from the Panera Bakery at Fairfax Hospital. "See here is sliced bread, and the cranberry bread that they like so much." Louise Bennett, head of the food efforts says, "We have a lot of baguettes today. We call them baseball bats."
Bennett says volunteers go to the ALIVE! warehouse at 9 a.m. and pick up produce from the Del Ray Farmer's Market. Bennett walks to the end of the shelves where she points to Swiss chard and, "they love collard greens." Boxes on the top are filled with pears and apples. Bennett says sometimes she gets some recipes from their guests. "I pick up some greens and ask 'what do you do with these — cut off the leaves?'
"'No, no, no' they say." Phyllis L. Johnson, head of the volunteers, says that if they have something unusual in the pantry sometimes they will provide a recipe to give the guests ideas. One volunteer goes out each week and buys eggs wherever they are on sale. "Then," Bennett adds, "we cut them in half and give out half a carton." Bennett goes around the corner to the freezer where she reviews the meat. "I wish we had more fish; they really like fish." The volunteer hosts will arrive at about 4 p.m. to prepare for the opening of the pantry.
Shelves are lined with neatly stacked cans of corn and beans, with shelves below filled with peanut butter on the left and grape jelly on the right. The signs are made for a family of four — 1 pasta, 2 vegetables, 1 beans. But Johnson says, "if we have more people in the family, we adjust. We have one family of nine. And, Arabic families don't eat canned meat because of custom so we adjust by giving them more of something else." Each guest is accompanied by a volunteer called a host.
Johnson says her volunteers are dedicated. "We are open every holiday. They voted to do it. They come enthusiastic. One lady who has MS and lives close to Annapolis volunteers regularly and arrives early. Here she comes now." The volunteer comments that it feels like she sees 100 families when she comes. "But it's probably more like 30 or so."
The volunteers come from a number of churches that are responsible for one week a month except Resurrection that handles the first, fourth and fifth weeks if one occurs. Johnson says, "My church, St. Joseph Catholic Church, has the third Monday."
Johnson estimates there are about 30 volunteers and each Monday requires seven to do the shopping plus 10 hosts. The guests line up on chairs outside the pantry waiting their turn to shop. Johnson says sometimes when people bring their children her husband babysits for them in the hall. Johnson says this pantry was targeted at people who work and need to shop.The guests can shop between 5-6:30 p.m. "and we have a nurse who always comes at the end so I wait for her." It is available to residents of Alexandria and they require an ID. Johnson says, "We have a good mix of guests. I've noticed more Muslims in the last few months."
Sometimes she says she has to exercise "tough love." She had just informed an insistent couple who had come for food that they couldn't pick it up at this location today. They were two hours early and had no ID. She gave them other options but they were disappointed and angry. "If I deviate from the rules for one family, word gets around and pretty soon everyone expects it."
This Monday is special since the shelter is celebrating a one-year anniversary complete with a marble cake, punch and a bouquet of flowers picked from the garden outside and planted by Senior Girl Scout troop 4737. Rev. Jo J. Belser says, "When this idea was suggested I said there was no way we could do it." There was so much organization and "we couldn't afford it. But look around this room. We did it together."