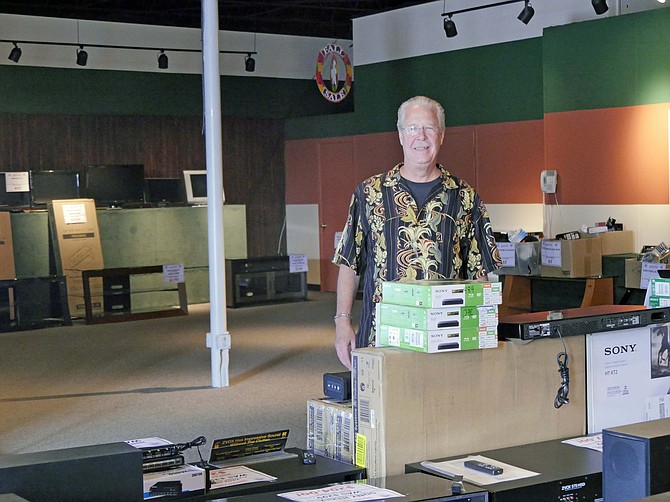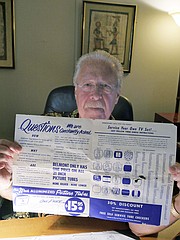 Belmont TV is closing. Ken Sickmen, current owner of Belmont TV, says he has been working there for 50 years since he was in high school. His father started the company on 14th and Belmont streets in Washington, D.C. in 1943 but the original store was burned down in the 1968 riots.
Sickmen reminisces when his father started the business 75 years ago there were no TVs, just radio. He said his dad couldn't fix anything but he went into business with two partners who were good at repairing, and he was a good promoter. His father's idea was Dial R-A-D-I-O on your rotary phone and they would come and service your radio while you wait.
Then in the '50s it was all about tube TV. "My dad offered 50 percent off the receiving tubes — all those little tubes inside your set." Sickmen pulls out an old advertising "how to" guide from under his desk blotter. People would come in and his father would give them a guide on how to change the tubes themselves. The other stores sold the tubes retail. "They thought my dad was crazy." But Belmont was the largest seller of tubes in the D.C. area.
In the late '70s everything changed for Belmont. Until 1973 parts and service was the biggest part of business. But then TV became solid state so no one needed tubes anymore. And in 8-9 years there were no people left anymore with TVs that needed tubes. "The industry completely changed so you had to change or disappear. So we morphed."
He says they transferred from service to sales. "By 2008-09, so many electronic companies were going out of business. It was a deeper problem for all of us than the recession." Sickmen explains that in 2000 you could sell a HDTV or flat panel for $3,000-4000 and make 35 percent profit. By 2009 the flat margin was 12-13 percent, and the profit kept dropping.
He says, "I ran the company after my father retired in 1983. Our strength was that we had no debt and owned our buildings. My father didn't want to take a penny out of the company."
The bottom line is "a simple statement and it sounds stupid but you can't stay in business if you can't make a profit. It got razor thin. But I'm closing because I'm retiring. I want to retire."
Sickmen says at the highest point they had eight stores, three large ones including one in Laurel which they closed two months ago, one in Wheaton, and one at Bailey's Crossroads, the final one to go. He said they started closing the smaller stores located in little shopping centers one by one in 1967 because it made more sense to have three large strategically located stores. He says, "We have leased our building at Bailey's Crossroads and started a week ago with the close-out sales. We're about 90 percent empty. I thought it would take a month.
Next Sickmen says he hopes to try doing "voice overs" for commercials. From 1976-1999 he wrote and produced many of his own TV commercials, sometimes on three stations. He sings the jingle, "Whatever you want, whatever it is, whatever you want, that's Belmont." Sickmen says, "it's catchy. You can't get it out of your head." Then in 1999 he switched to radio where he has stayed until now. "I have written over 100 commercials. I'm pretty good.
"This is a tough, tough industry. Everyone in the world sells TVs now. The saddest part is that I can't transition it to my kids. My daughters are sad because of their grandfather. The customers are sad." He adds, "The customers were very, very good. But it was time to retire. We did the right thing. I went out on my own terms."