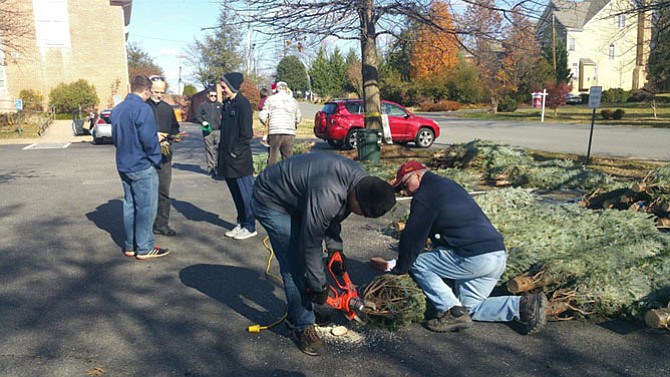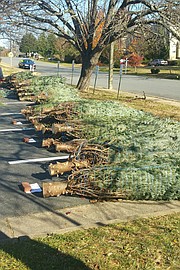 Order Online
Orders for trees and wreaths are due no later than Wednesday, Nov. 22, the day before Thanksgiving. The public can submit orders online at http://www.foodfo...">www.foodfortrees.org.
Fraser Fir Trees:
6 to 7 feet: $31*
7 to 8 feet: $38*
8 to 9 feet: $54*
9 to 10 feet: $74
10 to 11 feet: $90
11 to 12 feet: $135
Handmade Fraser Fir Wreaths
12 to 14 inches: $10
16 to 18 inches: $11
20 to 22 inches: $12
24 to 26 inches: $13
28 to 30 inches: $17
48 inches: $35
Colorado Spruce Trees
5 to 6 feet: $20
6 to 7 feet: $25
7 to 8 feet: $30
* Limited Availability
Pick Up Day
Those who order can pick up their trees and wreaths at the parking lot of the McLean Baptist Church at 1367 Chain Bridge Road on Saturday, Dec. 2, from noon to 4 p.m. A donation of $35 worth on non-perishable food items and/or grocery gift cards and/or cash for the Share Food Pantry will be collected from participants at this time. Checks benefiting the pantry may also be made out to the McLean Rotary Club.
Volunteers Needed for Pick Up Day
Those interested in helping with the event on Dec. 2 may contact Irv Auerbach by email at iauerbach@cox.net.
A holiday tradition of helping neighbors in need will continue this season in McLean.
The 8th Annual "Food for Trees" sale is accepting orders to benefit the Share Food Pantry. The program works by selling trees at a 50 percent discount off retail price. Participants then buy the trees and wreaths and pass on the savings by contributing at least $35 in money and/or food to the pantry.
Share Inc. is an all-volunteer organization providing emergency assistance to the working poor in McLean, Pimmitt Hills, Great Falls and nearby areas of northern Virginia. Share's programs include: paying bills to ward off evictions and utility shutoffs; running a food bank; delivering recycled furniture; and providing refurbished computers and school supplies to clients.
Jan Auerbach, member of the McLean Rotary Club, and her husband Irv Auerbach, a board member of Share, are co-chairing this year's Food For Trees program.
The trees and wreaths are being supplied by the Cline Church Nursery in Fleetwood, N.C., approximately 370 miles south of McLean on Interstate Highway 81 and near the Virginia-North Carolina state lines.
A total of 81 trees and 67 wreaths were purchased during the fundraiser last year, which yielded a great return for those in need of groceries during the holidays.
Last year, the event raised nearly $1,700 in cash donations for Share, more than $1,000 in Giant and Safeway grocery gift cards for Share clients and "grocery cart after grocery cart of groceries for the Share food pantry that people brought when they picked up their trees and wreaths," Jan Auerbach said.
Volunteers from Share, the Rotary and 10 missionaries from the Church of Jesus Christ of Latter-Day Saints helped with the tree and wreath pick up.
"It was very much a community event," said Jan Auerbach. "Many purchasers thanked us for continuing the program since they believe it really does exhibit the spirit of Christmas."
This is the second year the Auerbachs and their organizations have partnered to put on the sale. The annual holiday charity program was originally put on by Vincent D'Avena, the owner of A.V. Remodeling & Construction. He began the program in 2009 and was unable to run the program in 2015. That's when the Auerbachs stepped in to revive the tradition in 2016.