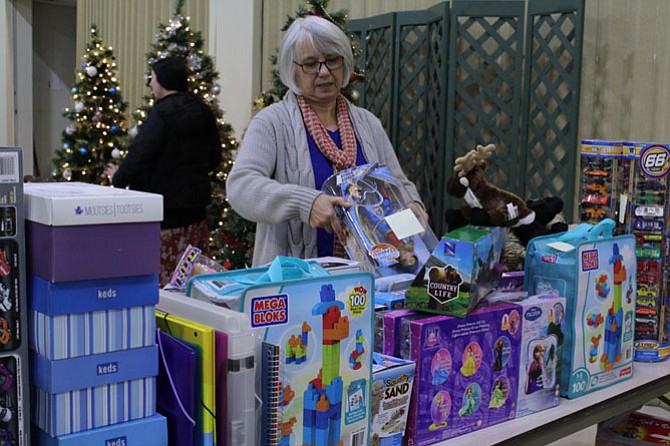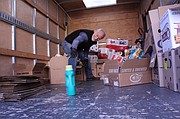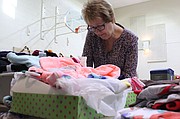 More than 275 families, or more than 800 people, attended Share's holiday program on Saturday, Dec. 10, at the McLean Baptist Church on Chain Bridge Road.
The working poor, elderly, disabled and homeless people who comprise Share's client base in the McLean, Great Falls and Pimmit Hills were provided a meal and were paid a visit by Santa Claus who handed out Christmas gifts.
"It's the highlight of the year for me," said Chris Wilbur, Share's holiday program coordinator. "Everyone goes home with presents and laundry detergent and toiletries, which can't be purchased with food stamps."
More than 50 volunteers contributed to the festivities over the last three months, helping organize the $55,000 worth of gifts and groceries, according to Wilbur.
The holiday program started when Share's clients expressed sadness for their inability to buy Christmas gifts for their families, says Vick Kimm, who has been volunteering with Share for more than 20 years.
"If you're just getting by, you don't have much to fall back on so helping them through rough patches and the holidays … We meet a real need," he said as he pushed a cart of toiletries into the church to be sorted.
The Giant grocery store down the street from the church contributed to the festivities by donating grocery gift cards. For years, it has also put up a tree in the middle of its store that helps Share.
"We like to make everything personalized," Wilbur says. "We get to know our clients."
Months ago, clients were given a needs assessment, which included wish list items. Volunteers then try to match gift cards or donations that will fulfill their requests.
The tree in the Giant grocery store is a way to get the community involved in making these wishes come true.
Shoppers can do this by picking an envelope off the tree, paying for the wish at the register and giving the envelope to the customer service desk.
One envelope reads: "47-year-old man, AMC Theaters gift card for date night." Another envelope reads: "12-year-old girl, Macy's gift card for pants and shoes."
Food For Trees
The McLean Rotary sold 81 trees and 67 wreaths as part of its Food for Trees fundraiser.
"We raised more than $1,700 in cash donations for Share, more than $1,000 in Giant and Safeway grocery gift cards for Share clients and grocery cart after grocery cart of groceries for the Share food pantry that people brought when they picked up their trees and wreaths," Jan Auerbach, member of the McLean Rotary, said in an email to the Connection.
Volunteers from Share, the Rotary and 10 missionaries from the Church of Jesus Christ of Latter-Day Saints helped with the tree and wreath pick up on Dec. 3.
"It was very much a community event," said Auerbach. "Many purchasers thanked us for continuing the program since they believe it really does exhibit the spirit of Christmas."
Share Inc. is an all-volunteer organization providing emergency assistance to the working poor in McLean, Pimmitt Hills, Great Falls and nearby areas of northern Virginia. Share's programs include: paying bills to ward off evictions and utility shutoffs; running a food bank; delivering recycled furniture; and providing refurbished computers and school supplies to clients.