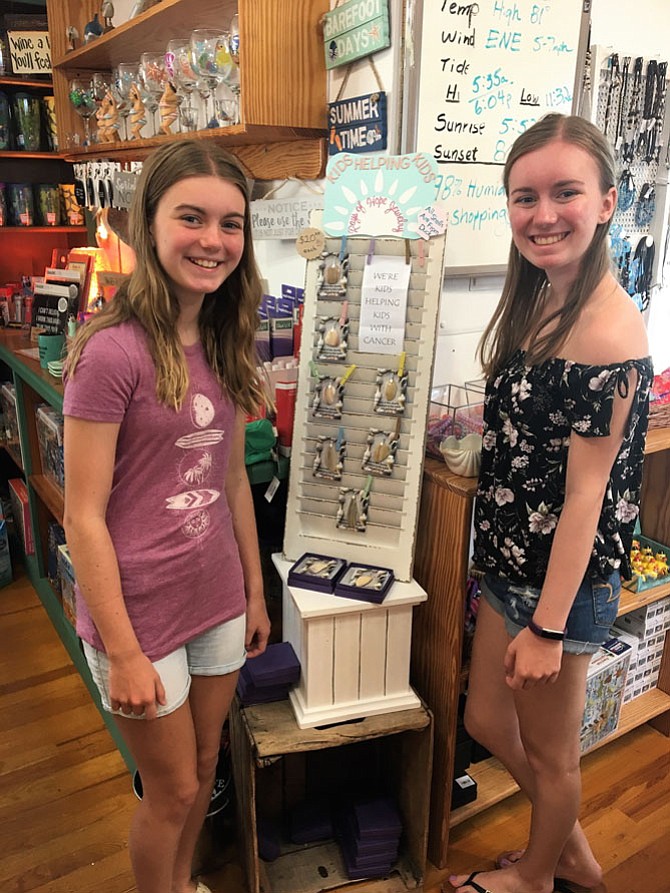 CancerFree KIDS, a nonprofit organization supporting pediatric cancer research, has benefitted from Rays of Hope Jewelry, an effort by Reston teenagers Cara and Jenna Ainge to create a collection of jewelry to raise money for cancer research.
To date, the girls have raised $990 for CancerFree KIDS by selling their jewelry collection at Duck's General Store, owned by Bill and Kathy Nye, who return 100 percent of the proceeds they make from the jewelry back to Rays of Hope. The proceeds then get donated to CancerFree KIDS to fund life-saving research for children with cancer.
"We are so grateful to Cara and Jenna Ainge for creating Rays of Hope and donating their proceeds to CancerFree KIDS," said Ellen Flannery, executive director of CancerFree KIDS. "It's amazing to see these girls make such an incredible effort to support and make a difference in the lives of kids with cancer."
Cara, 14, and Jenna, 12, of Reston, founded Rays of Hope in 2012 when they began making jewelry from shells they found on the beach. They decided to donate the proceeds to CancerFree KIDS because their cousin from Cincinnati, Thomas, was diagnosed with leukemia when he was 2 and a half years old. He is now cancer free after a more than three-year battle with leukemia.
"I know my generation can make a difference in the world and Rays of Hope Jewelry is a tiny example of what can be done," said Cara, one of the co-founders of Rays of Hope. "We start by creating something beautiful out of something most people ignore as an ugly broken shell."
Her sister and co-founder, Jenna, agreed. "It takes a lot of time, patience and love to create our pendants but it's worth it. We know there is a cure for childhood cancer and we want to do our part of find it."
To sell the jewelry, the Ainge sisters pitched their collection to Bill and Kathy Nye, the owners of Duck's General Store, who sell the jewelry for $20 per pendant and return all of the proceeds back to Rays of Hope. They have sold all of the jewelry the girls have provided them thus far and have ordered more to sell in the future.
Each pendant goes through a unique process to become a Rays of Hope piece. The girls pick specific shells to turn into jewelry through a more than two hour grinding and polishing process. They look specifically for shells with stripes on them that resemble rays of the sun after they are polished.
For their efforts, the girls have received the Daily Point of Light Award (number 6006) from the George H. W. Bush Points of Light Foundation. The Points of Light Foundation celebrates the power of individuals to spark change and improve the world, which Cara and Jenna have done through their dedication to fund pediatric cancer research through CancerFree KIDS.
CancerFree KIDS is a 501(c)(3) nonprofit organization dedicated to eradicating cancer as a life-threatening disease in children by funding promising research that might otherwise go unfunded. The organization has funded over $3.5 million in pediatric cancer research grants since its inception in 2002.