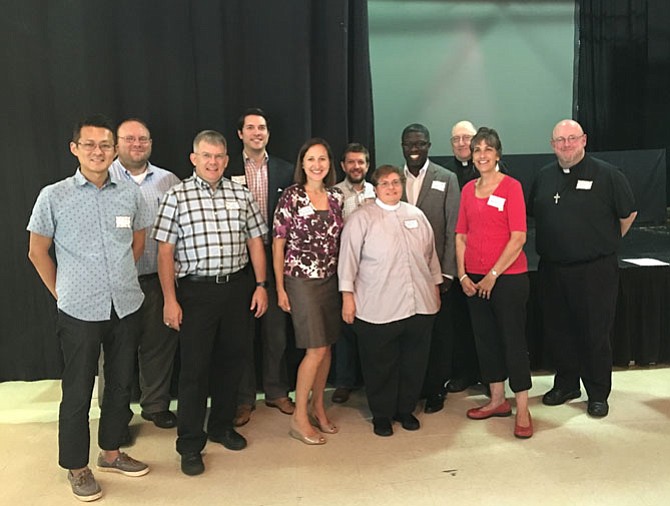 Vienna — This summer the Shepherd's Center of Oakton-Vienna (SCOV) hosted a Minister's Breakfast with local clergy attending. The purpose of SCOV's Minister's Breakfast was to provide an opportunity for local clergy to introduce the "old and the new" pastors currently serving in the Northern Virginia area to each other and to share the many services offered by the Shepherd's Center. The event was sponsored by The Arbor Terrace of Fairfax Senior Living and held in the Vienna Baptist Church fellowship hall. For more information about SCOV's services and programs for seniors (50+), visit their website at www.scov.org or their Facebook page atwww.facebook.com/scov.org.
Founded in 1998, the Shepherd's Center of Oakton-Vienna is a volunteer-based nonprofit organization dedicated to providing opportunities for adults (50+) to seek rewarding lives and to live independently in their homes for as long as possible. The unique approach employed by SCOV has also allowed for mature adults to volunteer their time and skills providing vital services to the more vulnerable seniors needing assistance. In 2018 SCOV will be celebrating twenty years of service to the community.
As the country's population is living longer and oftentimes isolated from family support, "aging in place" becomes a challenge. The concept of "Seniors Helping Seniors" truly defines the spirit and purpose of the Shepherd's Center of Oakton-Vienna. Their personal enrichment and volunteer opportunities reaches more than 3,000 older adults (50+) in the region.
Each year more than 250 volunteers at SCOV serve as medical drivers, companion drivers, friendly callers and visitors, health and wellness educators, office assistants, fundraisers, and grant writers. Volunteers also run programs such as SCOV's Lunch n' Life, Adventures in Learning, trips and outings, special events, and the caregivers' support group and caregivers treat event. Please LIKE and SHARE their Facebook page www.facebook.com/scov.org
Brought back by popular demand, SCOV's signature fundraiser to be held on Sunday, Oct. 22, 2017, 3 p.m. will again feature the Capitol Steps – Making DC laugh for over 35 years. Tickets are $35. Organizers are suggesting tickets be purchased early as this show is expected to sell out. Visit www.scov.org/fundraiser-tickets or call 703-281-0538. Sponsorships are still available. Visit www.scov.org/Fundraiser-Sponsorship to view the corporate benefits provided with a sponsorship.
To volunteer, donate or learn more about how you can help, visit www.scov.org or contact the office at 703-281-0538, office@scov.org.