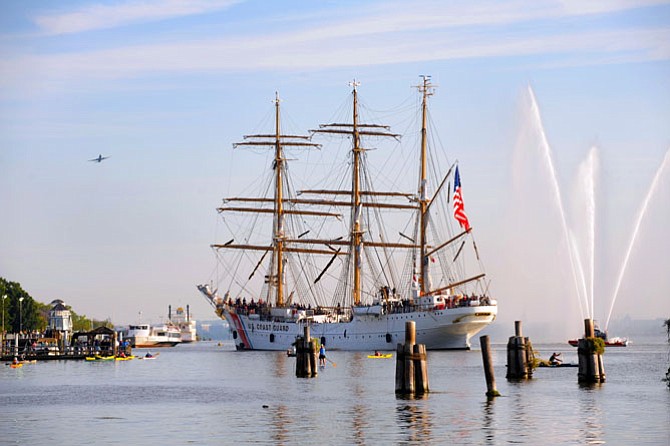 Alexandria — For the first time in 11 years, the U.S. Coast Guard Cutter Eagle arrived in the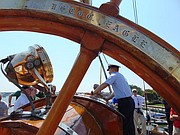 Washington area, mooring at Old Town's Point Lumley Park Sept. 4 as part of the tall ship's summer deployment.
Also known as "America's Tall Ship," Eagle is the largest tall ship flying the U.S. flag and the only active commissioned sailing vessel in American military service. Eagle is the only square-rigger in the U.S. military services and is used to train students at the U.S. Coast Guard Academy in New London, Conn.
"The Eagle has a fascinating history," said Old Town resident Hal Hardaway after touring the vessel Sept. 5. "Eagle was hull #508 built in the Blohm and Voss shipyard in Hamburg in 1936. That yard's next hull — # 509 — was Bismark."
Alexandria is Eagle's final stop in its summer deployment, which has spanned
five months and included 14 ports, including multiple ports along the Eastern Seaboard, Canada and Bermuda.
Also known as the Coast Guard Barque Eagle, the ship left Baltimore April 26 bound for New London to commence the 2017 cadet summer training program. Eagle and her crew, including Capt. Matthew Meilstrup as commanding officer, have been at the Coast Guard Yard facility in Baltimore as part of a Service Life Extension Project that will keep the ship away from its home port of New London for several years.
The ship was built in 1936 in Germany and commissioned as Horst Wessel, one of three sail training ships operated by the pre-World War II German navy. At the close of World War II, Horst Wessel was taken as a war reparation by the United States, recommissioned as the U.S. Coast Guard Cutter Eagle and sailed to New London. The vessel is used for at-sea leadership and professional development training for future officers of the U.S. Coast Guard.
Eagle is scheduled to depart Point Lumley at approximately 4:30 a.m. Sept. 8. The Woodrow Wilson Bridge span will be raised at that time to allow Eagle to sail through as it makes its return to Baltimore.
For more information, visit www.cga.edu/eagle.