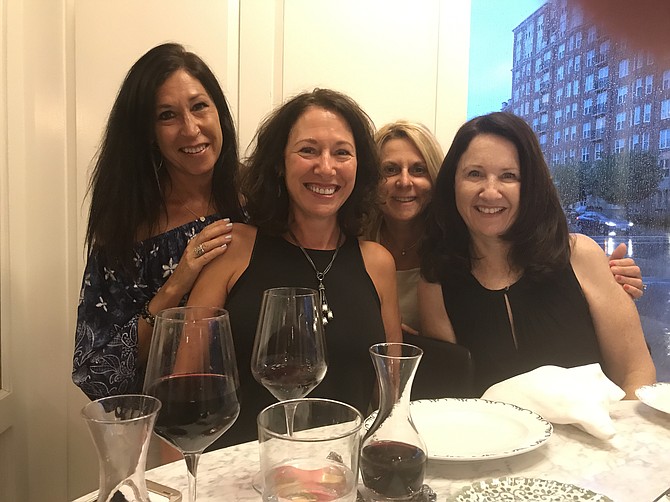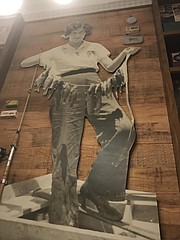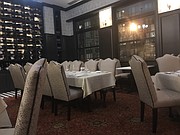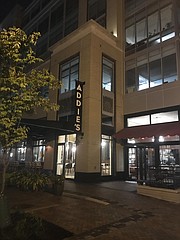 Addie's Restaurant is open for business in Park Potomac. Formerly located in an old yellow house close to the Strathmore Center, it is now in a larger and more modern space — and yet it maintains the same feel as the previous restaurant because of owner Jeff Black's continued dedication to make the restaurant a tribute to his grandmother, Addie Black.
A large photo of Addie displaying her "catch of the day" while wearing high heels and bell bottoms is front and center next to the long "Texas" bar that serves as a gathering place for the Happy Hour crowd. A map of Texas, Black's home state, is also displayed and a wall of memorabilia from Addie's era is featured in one of the smaller dining rooms to keep the feel of Jeff Black's "grandma's house."
The restaurant was launched three weeks ago and is already a popular dining location for lunch, Happy Hour and fine dining. The Happy Hour menu, served from 3-7 pm Tuesday through Friday, features vintage sodas such as Nehi Grape, Root Beer and Big Red and $6 glasses of wine and beer. Happy Hour food ranges from smoked mussels and salads to burgers and a raw bar.
The dinner menu offers selections ranging from a customized Tower of Seafood to Yellowfin Tuna, Beef Tournedos, Crab and Shrimp Puffy Tacos and Chesapeake Fisherman's Stew — a favorite served at the original Addie's Restaurant. Dinner for two can include the Allen Brother's Rib-Eye, Mediterranean Whole Roasted Sea Bass and a Whole Roasted Spatchcock Chicken.
The Seafood Tower offering is the most distinctive item on the menu — and unlike other restaurants' Seafood Towers. Served as a three- tiered platter, the Tower can be ordered in three different sizes and is created to be shared and enjoyed. Diners choose from a list of 25 seafood selections which change on a daily basis. Some of the options include a Half-chilled Lobster Tail, Tuna Tartare, a Tempura Soft-Shell Crab, Maryland Blue Crab Claw, Razor Clams and Nori and Hijiki Seaweed Salad. There are also items on the Tower menu that do not include seafood.
Potomac residents Lisa Raker, Rhonda Kaufman, Amy Gleklin and Karyn Simon had celebrated each other's birthdays at the previous Addie's for many years. "We were broken-hearted when it closed two years ago — but when we heard it was re-opening at Park Potomac, we were thrilled," said Raker. "The mussels and salads are terrific and we love the atmosphere. We will definitely return."
Waitress Renee Schoch explained that the restaurant serves only the freshest farm-to-table food and the menu changes daily depending on what fresh foods are available. "All the seafood is locally sourced," she said. "We also have our own barista and we serve Rise Up Organic coffee roasted in Easton, Md."
Chef Jeff Black moved to the D.C. area some 20 years ago from Texas to study culinary arts. Black has grown his management company, the Black Restaurant Group which he owns and operates with his wife Barbara Black and Jon Linck. They own six different restaurants in the D.C. area: Black's Bar and Kitchen, Bethesda; Black Market Bistro, Garrett Park; Black Salt, Washington D.C.; Republic, Tacoma Park; Pearl Dive Oyster Bar and Black Jack, D.C.; and Addie's in Park Potomac. Each establishment's menu and atmosphere is different.
Reservations are recommended for the restaurant dining room. The restaurant is located at 12435 Park Potomac Ave., Potomac. It is closed on Monday. See www.addiesrestaurant.com.