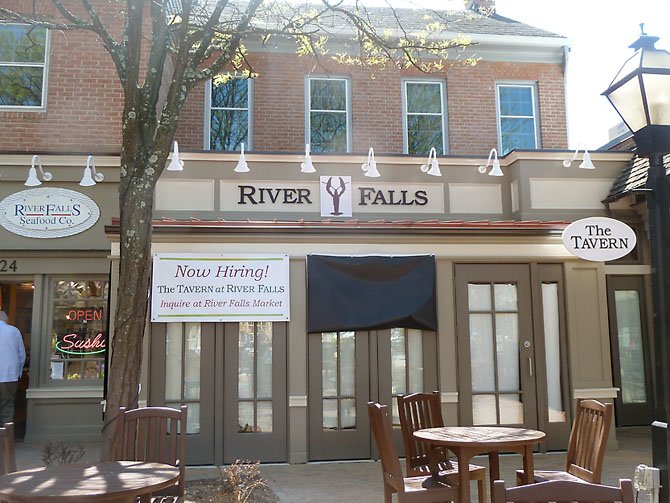 Potomac — The long-awaited Tavern at River Falls is already a hit in Potomac. Finally opened after more than two years of work and determination by owner Jeff Grolig, the tavern offers a large U-shaped bar area, original photographic artwork and a menu that features tasty food created with the freshest of ingredients.

Located next to Renato's and the River Falls Market in the Potomac Place shopping center, the restaurant is the culmination of Grolig's entrepreneurship. The Tavern at River Falls seats 70 people.
The rustic tavern will not disappoint diners who are looking for splendid American cuisine. Every dish is created by Chef Brian Nussear who works with corporate chef Andrew Malinowski. Lunch and dinner menus include signature items such as fresh jumbo lump "Cadillac" crab cakes, Creole-spiced jumbo shrimp and chipotle-gouda grits, a three-beef-blend Tavern burger, a prime filet mignon, roasted blue-bay Maine mussels and soups and salads. There is also a lite fare menu and a full selection of wines and crafted beers.
"Our philosophy is to serve really fine food," said Grolig. "We make everything from scratch and use no pre-packaged food. The restaurant has a real neighborhood feel — very warm and friendly. We have the license for the outdoor patio and will soon be able to offer outdoor seating as well.
"I am so pleased with the community's response. Every night has been standing room only and we were completely booked for Friday and Saturday night. We've had very positive feed-back from our customers. "
Grolig opened the River Falls Seafood Company in 1998 with a vision of providing Potomac with "the finest quality fresh seafood and house-made prepared foods." He formerly served as corporate seafood buyer for the Sutton Place Gourmet in Bethesda. In 2003, the River Falls Seafood Company doubled its size and became the River Falls Market, providing fresh seafood, meats, prepared gourmet meals, beer and wine to the community. In 2006, River Falls Market purchased Renato's Restaurant.
The restaurant staff provides team-oriented service to the patrons. Front-of-house manager Johnny Robinson was born in Dublin, Ireland and comes to Potomac from Portland, Maine. Potomac customer Sylvia Darrow enjoyed her first visit to the Tavern: "I loved the warm atmosphere and the artwork. The food was excellent. This restaurant will definitely be a place where I meet friends. I was impressed there were people of all ages here. We ran into a lot of people we knew — and I bet that will happen every time we come."
The Tavern at River Falls is located at 10128 River Road, Potomac. It is open daily from 11:30 am to 9:30 pm and, according to Grolig, "the bar will remain open until the last customer leaves." Call for a reservation at 301-299-0481 or check out the restaurant at www.thetavernatriverfalls.com or on Facebook.