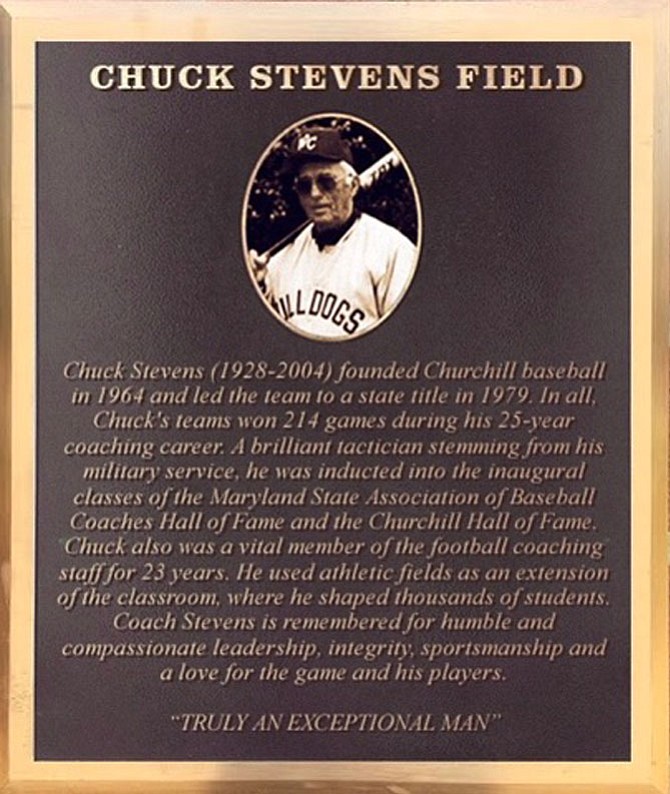 Former students and staff of Winston Churchill High School will gather Friday, Sept. 15 to dedicate the school's baseball field in honor of the late Chuck Stevens, known as the founder of Churchill baseball.
"His baseball record speaks for itself," said Scott Sorkin, Churchill class of 1986 and head of the alumni group that organized the naming. "He was just an incredible man and mentor."
Stevens was the school's first baseball coach, starting the program when the school opened in 1964. During his 25 years as coach his teams won 214 games including the state title in 1979, the County Championship in 1978 and they competed in the County playoffs every year between 1978 and 1986.
He was also an assistant football coach and coached the junior varsity team to an undefeated season in 1977.
Sorkin said he remembers Stevens as well prepared and a "brilliant tactician." He said he learned to always be prepared himself, a lesson he still follows.
Stevens taught physical education and driver's education at Churchill until his retirement in 1990.
"The ballfield was an extension of the classroom for Coach Stevens," Sorkin said.
Stevens was inducted into the Maryland State Baseball Coaches Hall of Fame in 1992 and the Churchill Hall of Fame when it was started in 1995.
The Dedication Ceremony will take place at half time of the Churchill vs. Gaithersburg High School football game Friday. Festivities begin at 4:30 p.m. with a welcome by Sorkin followed by a video presentation prepared by Chris Nazarian, Class of 1985 and a talk by Mike Zarchin, former Churchill assistant principal and friend of Stevens.
Sorkin's four children and other family members are expected to be at the school for the dedication.
The celebratory weekend will end with an alumni baseball game on the newly named Steven's Field on Saturday from 9:30 a.m. to noon.
For more information visit the Facebook page Churchill Chuck Stevens Field or email Scott Sorkin at ssorkin@blandsorkin.com.