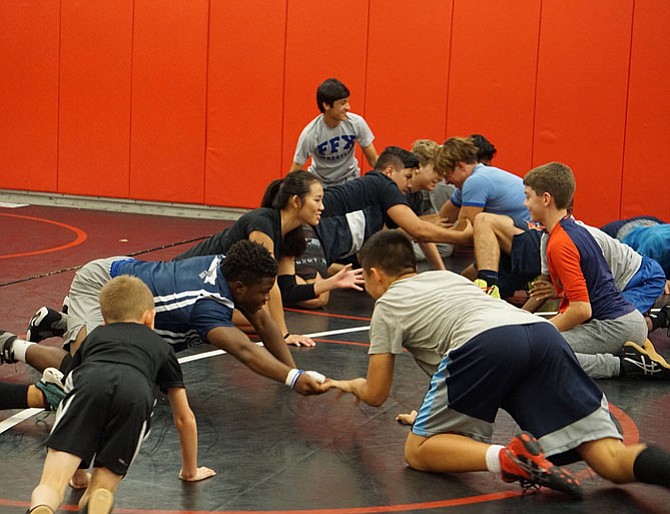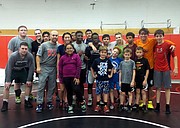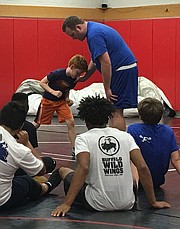 "Our motto is 'Promoting lifelong educational values through the world's oldest martial art.'" —Tanner Sewell, president of NOVA Wrestling Club
Not only is Tanner Sewell the head wrestling coach at Fairfax High, he's also president of NOVA Wrestling Club, a nonprofit serving student-athletes in the local area. And he's doing all he can to grow the sport of wrestling in the City of Fairfax.
Toward that end – and to also raise money for the club – NOVA Wrestling will have a tent at the City's upcoming Rock the Block, Friday, Sept. 22, from 6:30-9:30 p.m., at Old Town Square. It will offer a wrestling demonstration, pull-up competition and a silent auction, as well as provide educational resources about wrestling.
"We'll also have parents from other schools there to talk to parents of non-wrestlers about how wrestling has positively impacted their kids' lives," said Sewell. "GMU Wrestling is a Division I college program in our community, so it will have some of its wrestlers there, too. We want to build its fan base and showcase their wrestlers, as well."
The Virginia Wrestling Assn. will be endorsing the event and will have a representative there, said Sewell, as will the Eric Monday Wrestling Foundation. "He was a 2006 Madison High wrestler who took his life in college, so his parents started a foundation to promote wrestling and raise awareness of mental-health issues," said Sewell. "Eric fought and struggled with depression, his whole life, but his parents saw how much wrestling helped him and they wanted to give back."
THE HIGH-SCHOOL WRESTLING SEASON runs November-February, and Sewell runs Nova Wrestling in the off-season. It started a year ago and has really taken off. It's for students in elementary through high school; most are from the City, but some come from other places.
"We provide an after-school option for them to learn wrestling and compete all over the country, from New York to Georgia," said Sewell. "Our motto is 'Promoting lifelong educational values through the world's oldest martial art.'"
The only independent wrestling facility in Fairfax City, NOVA Wrestling's training area is fully equipped with 2,500 square feet of mat space, ropes, bags, bands and gladiator walls. It has 30-35 members, and Sewell recently started a campaign called #GrowWrestlingFFX" to get non-wrestlers involved.
"Nationwide, wrestling numbers are going down, especially at middle-school levels," he said. "So I'm doing this initiative in order to keep the sport alive. Wrestling provides learning experiences, opportunities and lessons that other sports just don't."
Because it's an individual sport, athletes compete one-on-one. "There's no collective responsibility, like in basketball, so it's just one kid participating against another," explained Sewell. "And if he loses, he learns about taking individual responsibility and how to handle failure – which is a huge lesson, in itself."
"In school, we don't teach kids how to fail," he continued. "But it's important because everyone will fail, at some time. So they need to learn how to bounce back – it's about resiliency. I'm a special-ed teacher, and there are so many studies out there saying resiliency is the number-one indicator of lifelong success. And that's what wrestling, at its core, teaches. That's because, in wrestling, failure is inevitable; no one's going to win every, single match – it's impossible."
Another piece of his grow-wrestling initiative, said Sewell, is to bring more females into the sport. "And that's what's great about wrestling, too," he added. "Helen Maroulis is the best wrestler in the world. She was the first female in U.S. history to win an Olympic gold medal in wrestling, and she beat a Japanese wrestling icon. So now, girls have a wrestling role model to emulate. They can follow her path and say, 'I can do that, too.'"
Furthermore, another unique thing about wrestling is that it doesn't discriminate socioeconomically or against people with disabilities. For instance, said Sewell, "A lot of people on the autism spectrum have found success in wrestling, as have people without arms or legs."
AS A RESULT of all these things, he said, "The City has really rallied behind our sport because they see the value of wrestling. For example – to kick off our initiative and show the community's support – John Wood, owner of the 29 Diner, donated a $2,500 scholarship to a NOVA Wrestling Club member to attend GMU, starting this school year. In many ways, John has been our Fairfax City captain when it comes to supporting kids in our community and growing the great sport of wrestling. He has such a big heart, and what he's doing is invaluable."
Looking forward to the Sept. 22 Rock the Block, Sewell said, "We hope this event is a catalyst for making wrestling a key and central part of our Fairfax City community." For more information, go to novawc.org.