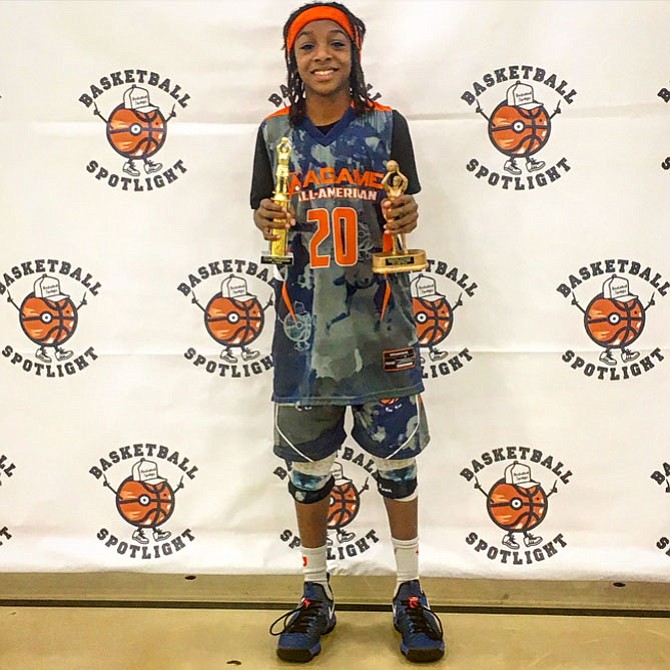 Springfield — Anthony Saunders, 11, of the Kingstowne neighborhood near Springfield has
big NBA dreams. He wants to follow in the footsteps of his basketball heroes — LeBron James, Kevin Durant, or Dwayne Wade — and maybe play for one of his favorite teams: the Miami Heat or the Golden State Warriors.
The family's townhouse basement is crammed with 18 trophies and 20 medals from all of Anthony's many tournaments and camps. He started receiving awards when he was 6. At the rate he's going, the sixth-grader at Anthony T. Lane Elementary School is on track to making his dream come true.
"He wants to be an NBA player," said his dad Kareem, who coaches Team Durant in Seat Pleasant, Md.
This summer alone, Anthony took part in a slew of basketball camps where he excelled.
At the Gonzaga Camp, he won the Knock-Out Championship Shooting Contest on July 14. He was the starting point guard in the AAU Nationals for Team Durant on July 22-27 in Fort Lauderdale, Fla., and finished eighth in the country. He won the Morgan Wootton MVP Award for ages 10-13 at DeMatha Basketball Camp on July 31-Aug. 4. He also played in the PYBL Premiere Youth Basketball League for elite seventh and eighth graders from June 4-Aug. 19. He also attended Junior Phenom Camp in Richmond for top rising sixth-graders in the nation on Aug. 13. He also attended the Future Phenom Camp in Boyds, Md., from Aug. 26-27, for sixth-graders, where he made the Top-20 All-Star team and was selected a Top 5 future prospect. He was also in the All-Star Alimoe Day game sponsored by the Tri-State Classic in Harlem, N.Y., Aug. 20.
And that was just one summer. And yes, he's only in sixth grade.
To top it off, for training this summer, Anthony got up at 7:30 a.m. and headed over to the soccer field behind his house. He started with strength and conditioning exercises, and worked on running faster and getting stronger. He did push-ups, sprints, and 12-minute one-mile runs around the soccer field. He headed back to the basketball court where he took 100 jump shots.
"I told him this is the focus you have to prepare for. You can't play video games and you may have to miss this party ... just to make him understand the dedication that it takes," said his father.
"What I'm preparing him for is college, whether it's a full scholarship, using the basketball and trying to add an additional sports of lacrosse," said his dad. His parents are looking to send him to St. Stephens/St. Agnes for middle school; Paul VI for high school; and Duke University or Syracuse for college. "You never take away your dreams; you alter them to get to your goal."
"I hope that basketball-wise he finds happiness as a career," said his dad. "When he first told me he wanted to be an NBA player, I told him he needed a backup. God forbid something could happen with a knee injury."
He continued: "As you work on one goal, you have to work on the second. My goal for him is to have happiness through basketball. I know his goal is the NBA, but it's hard. I just want him to have peace and happiness with basketball."
"What I love most about basketball is it's my life," said Anthony, who spends half a day shooting around, playing hoops, and watching basketball videos. "I just love it. I love seeing people shoot, dribble, and pass."
"I'm very impressed by his dedication just because when I speak to other people they say how determined he is," added his mother Latoyah. "I'm impressed by his dedication at such a young age."
Even though Anthony was diagnosed with Osgood-Schlatter disease, he's not letting it get him down. The condition is an inflammation of the knee caused by growing pains where the tendon from the kneecap attaches to the shinbone. To combat the problem, which he'll have until he's 19-21, he's taking medication and vitamins, epsom-salt baths, icing up after games, and resting up for about four months.
His father works as a professional deejay and basketball coach; his mother works as a financial executive at Voice of America. The family moved here from New York when Anthony was 3. The couple has a younger son named Christopher, age 6.
Dad has been coaching Team Durant in Seat Pleasant, Md., for four years and coaching his son since he was 5. Anthony had been playing in the Fort Belvoir Rec Team and Kareem started by helping out when the coach couldn't be there. He was also the freshman coach at Lee High School for four years. "That's when I got time to focus on him," he said of Anthony.
When he's not playing basketball, Anthony enjoys attending Washington Wizards games, riding his bike around the neighborhood and playing in the chess club and singing in the school chorus.