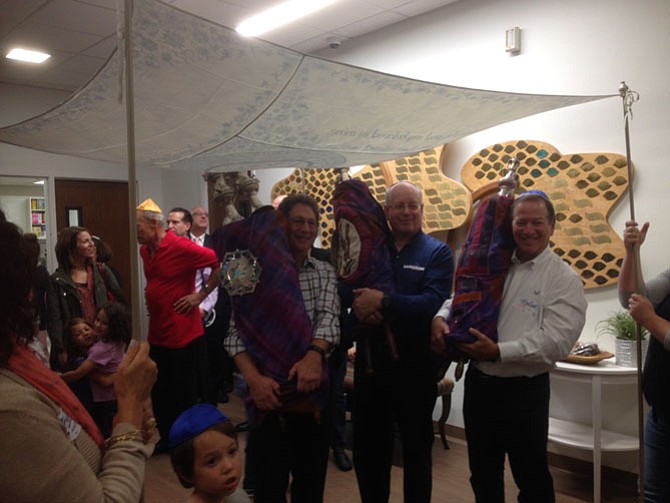 Springfield — As the Congregation Adat Reyim in Springfield danced and sang to "Tsena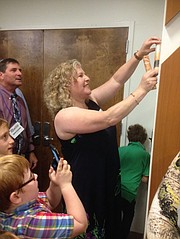 Tsena," the togetherness and friendship of a religious community was perfectly clear. Although they were celebrating the new sanctuary of the congregation, they already had the togetherness they sought, and were creating a new sanctuary as a look in the future of inclusiveness.
It all started with the need for a wheelchair ramp, and ended in something so much more.
"We started dreaming," said Andrea Cate, the chairperson of the rejuvenation committee. "Like our parents did for us, we do for our children," Cate said.
Rabbi Bruce Aft reiterated that feeling, as he said a few words before the ribbon was cut and the doors to the newly refurbished space opened. "This is what it's all about," he said as he called the children up front to hang a new "mezuzah," which is an object in the Jewish faith hung by doors to bless the home.
The evening started out with a barbecue out front and then the clapping and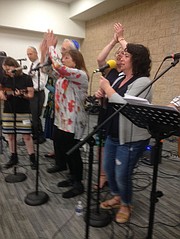 dance began, as the "chuppah," a Jewish canopy, was erected and scrolls of the Torah beneath the chuppah were brought into the new space, which featured a new wheelchair ramp to make the altar accessible to all. "This keeps with our theme of being inclusive," said David Berkowitz, a member of the congregation.
Rabbi Aft said the torah, which is an altar, is a tree of life. "It will make it more inclusive, building on what was here," he said. "Create energy and still attract younger folks," he said.
The building committee came up with three factors that the congregates want for a new worship space to:
be inclusive and welcoming

foster connections among family and community

connect the congregation to nature
The nearly $800,000 project included a relocated wall, new furniture, flooring and a window to the exterior. Although the ribbon was cut and the festivities ensued, the project is only 85 percent complete. The project will be completely finished by Rosh Hashanah, which is Sept. 20.
When there was a break in the music and dancing, there was a reading that stated: "May each of us be inspired to create a community of friends."