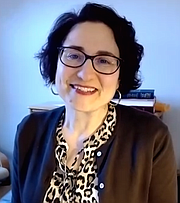 Rabbi Chana Leslie Glazer is a collaborator. In July of 2020, the educator of all ages became the spiritual leader of Congregation Adat Reyim, located at 6500 Westbury Oaks Court in Springfield. Despite a pandemic and almost everything being virtual, Rabbi Glazer made her mark on the growing congregation, known for its diversity of Jewish practitioners and interfaith families.
"In the first few months of online services and programs, members often commented in the Zoom chat, 'We got the right rabbi,'" said congregant Eileen Kugler.
According to a press release, "Rabbi Glazer has kept a busy schedule of congregational and community events. Her thoughtful sermons during these difficult days have provided valuable insights, comforted us, and at times, encouraged us to live up to our Jewish values."
Rabbi Glazer maintains that before she arrived, Adat Reyim was already a participatory congregation. Her goal became for engagement to be "meaningful and successful," but she was challenged because it is different for different people. Wanting to reach the diverse populations, Rabbi Glazer looked at prayer, education, and other activities through a different lens - the time of day, the vehicle, and the initiative.
For instance, Rabbi Glazer offers Jewish meditation on a weekday morning. It attracts a population different from other programs and events. Her Exploring Judaism class is on Sundays, composed of adults from various religious backgrounds and all ages. An ongoing book group about racism and antiracism is held on weekday evenings. It sees a different group participating.
"The congregation already offered a variety of programs to its members when I got here, and my work so far has been to help broaden those offerings and to name what we are doing and help the community be proud of that because it is part of what makes this community great," Rabbi Glazer said.
She is also helping the congregation in its stated interest of thinking and acting to be more inclusive of minorities and marginalized groups – who still isn't here at the table now, and why? According to Glazer, she asked herself how Adat Reyim could be even more inclusive. She wanted to "normalize different approaches and remove any judgment on how people connect to different things in different ways."
"I have been a practicing Jew all my life but have never before felt as engaged in prayer as I have since Rabbi Glazer came to Congregation Adat Reyim. She has a way of introducing prayers and leading with intention that helps me to connect with the words on the page and allows them to really soak in," said Andrea Cate, past president and Chair of the Interior Rejuvenation Committee.
"Rabbi Glazer always welcomes our four-year-old son by name during online service and makes him feel included… It's lovely to know he still feels a connection to Adat Reyim while we're gathering online," said Sarah Berry, Adult Education Co-Chair.
Congregation Adat Reyim, which means a "Community of Friends" in Hebrew, is an independent synagogue on Springfield and Burke's border with an inclusive approach to Judaism.