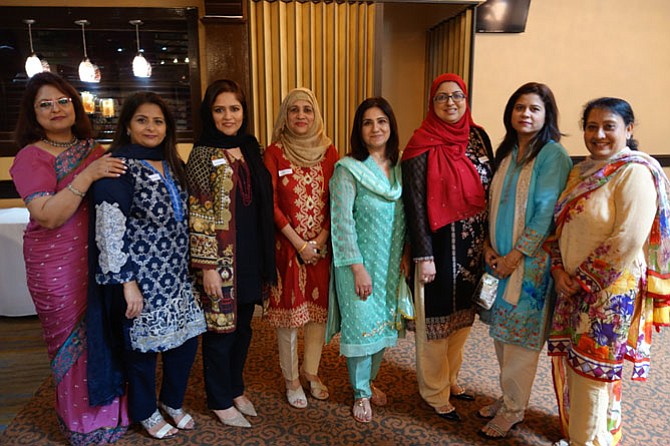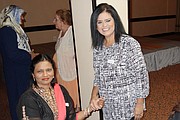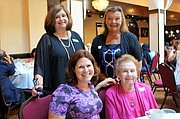 Seventy-five people were honored at the 34th Annual Infant Toddler Family Day Care Provider Appreciation Celebration on Sunday, Sept. 17, at Dunya Banquet and Restaurant in Alexandria.
Infant Toddler Family Day Care is a nonprofit organization that provides childcare resources and referral services to 320 families (serving 350 children) in Northern Virginia, including the counties of Fairfax, Arlington, Prince William, Loudoun, and the City of Alexandria.
It screens daycare providers by doing background checks, criminal history checks, reference checks and home evaluations, which is a safety inspection to find the best people to do the job of caring for children. It works with children ages 6 weeks to 14, or up to 18 with special needs. They recruit, screen, train, approve, and monitor the providers.
Thirty percent of the 120 early childcare educators have either the Infant Toddler Certificate from Northern Virginia Community College or the Child Development Associates credential. They come from 28 different countries and speak 15 languages. Many of them arrive in the U.S. as immigrants/refugees and have benefited from the Workforce Development program.
The organization is a network of professional childcare educators with a commitment to the principle that learning begins at birth. Since it started in 1983, it has supported the emotional, social, and intellectual development of infants, toddlers, preschoolers and school-age children in safe, nurturing high-quality childcare environments.
The nonprofit has 12 people on its Governing Board of Directors and was co-founded by Phyllis Cassell and Ileene Hoffman in 1983. Cassel, 88, of Annandale, retired from the business 16 years ago. "I loved working with the children and teaching the adults, and I loved the training. We had eight classes. I wrote the manual at the time and was certified in CPR," she said.
In the early days, she taught 40-hour classes in professionalism, safety in the homes, social development, emotional development, intellectual development, physical development, nutrition, first aid and CPR. "They had to pass in order to become a provider," she said.
Event planner Malia Anderson of Chantilly has been part of the Infant/Toddler management team for 30 years in various roles. "The purpose of the event is to show providers how much they are appreciated by having a luncheon in their honor and to emphasize to them the important part they play in making Infant/Toddler a successful program," she said. "It's a program that's very dear to my heart."
Lisa Farinholt-O'Brien, the director of Workforce Development, said Infant/Toddler screens and monitors providers as well as gives training and referrals. They work with immigrant families that are interested in starting their own childcare business.
"We have a licensing process they go through, taking them through home inspections for safety and training classes. Once they get approved, we assist them with marketing their childcare and we refer families to them," she said. "Once a person starts doing daycare, they have monthly visits. Staff members work with them to keep their homes safe and to provide an educational environment for the children. We do annual training with the providers and handle the billing and bookkeeping for them."
Provider Freida Steele of Springfield, who is originally from India, has been with Infant/Toddler for four and a half years. She says she loves working with the children. "It gives me an opportunity to teach and to learn from them. They give me the opportunity to learn from them so that I can provide better services to the little ones in my care."
Provider Shaista Laiq of Fairfax is originally from Pakistan and has been with Infant/Toddler for 18 years and in daycare for 26 years. "They provide all the training and all the paperwork. I feel like I'm working for a company. I am in this business because I love the kids," she said.
Provider Farzana Jabeen of Fairfax is originally from Pakistan and has been with Infant/Toddler for 10 years. She provides care to five children, ages 3 months to 3 years. "I took the classes and I learned how to take care of the kids; they give us good classes. I also teach sign language to infants; I use sign language for the kids. I enjoy it so much," she said.
To learn more, visit www.itfdc.com or on Facebook: www.facebook.com/InfantToddlerFamilyDayCare.