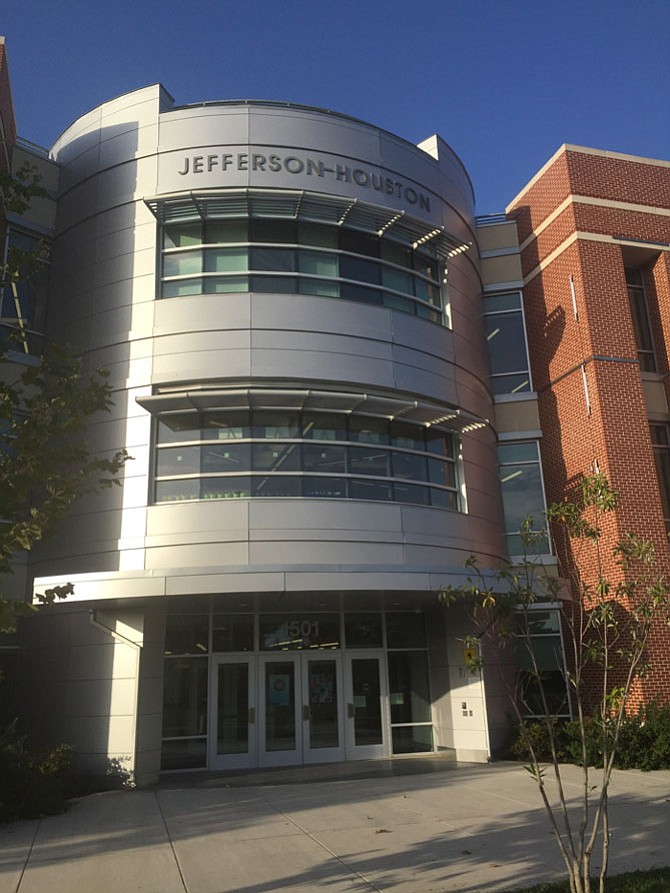 Alexandria — Accreditation is how the state measures school effectiveness. Some of
"Over the last four years we've seen growth, so we're excited to be here."
— Principal Chris Phillips
Alexandria's results, like Francis Hammond Elementary and William Ramsey Elementary, are still under review, but nearly every other ACPS school managed to pass accreditation. All except for one: Jefferson Houston.
It's the fourth year the school has been unaccredited. In 2014, test scores fell as low as 36 percent pass rate for science and 46 in math. In the 2016-2017 school year, the school still fell short of accreditation in three of the four subject areas.
Despite its accreditation status, the test results also show progress for the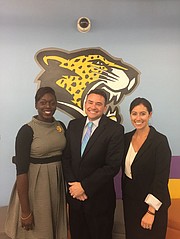 school from 2014 to today. Science, which was scored at 36, has risen to 67. English and Math scores both sit at 66, both an increase over the mid-40s from 2014. Math scores did decline slightly this year, scoring 69 last year. History, which had been as low as 51 in 2014, had increased to 63 last year, and had reached accreditation status at 73 this year.
"Over the last four years we've seen growth, so we're excited to be here," said Principal Chris Phillips. "We're going to have dips, but we stayed where we needed to be."
There are 566 students at Jefferson Houston at a school built with an 800 student capacity. Phillips said their relatively small number of students means a small number of students can have a large impact on the testing scores.
The school has been working through a number of strategies to push test results up. Phillips said the school has a joint program with the University of Virginia and has curriculum instruction at collaborative team meetings. Assistant Principal Mojisola Adejumo said that one of the efforts the school has been undertaking is promoting more collaboration with teachers. The administration hosts weekly team meetings to review material and have assessments. Adejumo also highlighted the school's ROAR Academy, an after-school program where parents can come into the school and review the material their students are learning. Adejumo said she remembered one case where the teachers were working with a parent from Honduras on math issues and discovered that the way division problems in Honduras are laid out is different than their structure in American education, so they taught the parent how the division would be taught to his child.
"It's not about being patronizing," said Adejumo, who said teachers and administrators all go through a similar process, "It's about empowering."
The ROAR Academy was started shortly before testing last year, but Phillips said it will begin in January this year.
"It's about the culture of the school and bringing teams together," said Assistant Principal Veronica Del Bagno, who had previously worked at the school as a teacher before returning to work as an administrator. Del Bagno said part of the new focus is not just having teachers work together with others in their own grade level, but getting to know and collaborate with teachers in other grade levels.
It's not just staff and administration saying Jefferson Houston has turned a new leaf. At a Back to School Night on Sept. 19, parents and students at the school said they couldn't be happier with their school in spite of the accreditation issues.
"He's happy, so we're happy," said Brian Wood, a resident of Potomac Yard whose son is in second grade and has attended Jefferson Houston for three years. "We've had good interactions with the school."
Wood said he sees his role in educating his child as being joint with the school, and said the school's administration has really helped promoted integrating the community into the process.
For Tasha DeMarco, her son just started kindergarten at the school a few weeks ago, but so far she says she's been impressed.
"Of course we were a little worried," DeMarco said, referring to the accreditation issues. "But we liked the diversity of the school, and at the first Parent-Teacher Association meeting, so many parents showed up. It was standing room only."
Several parents said they were similarly impressed with the first PTA meeting turnout.
"There were so many people," said Karla Walter, who has two sons. One is in first grade at the school, the other is in pre-kindergarten and will be attending next year. "We love it here. Our son is doing great in classes and the teachers are very engaged."
Walter said the accreditation problems were something her family was aware of, but said touring the school and talking to the teachers left them impressed.
"As a parent, we're often in the strange position of having to explain the school to people," said Walter. "We like that it's a middle sized school, and we like the community here."
As a parent, Amy Witmer was at the school when Jefferson-Houston was going through its lowest points. Her children are in fifth and fourth grades and have been in the school since kindergarten. Witmer said the school's turnaround has been amazing to watch.
"My kids are happy at this school," said Witmer. "I love the teachers here. They are creative and responsive to the needs of all the students. My own child had socializing problems, and the counselor was very responsive."
Witmer credited Phillips with creating a school with high expectations and a strong focus on academics, order, and discipline.
"Of course we were concerned," said Witmer of the accreditation. "All parents, existing or incoming, know about that. And the students are concerned about testing. But I would tell parents to visit the school. Meet a parent of a child that goes here. You will find enthusiasm, safety, and support."
Phillips said when the school lost accreditation, it was put on a three- to five-year recovery plan. Phillips said the school hopes to earn its accreditation back this year.
"We have a lot of work to do," Adejumo said, "but we truly love these children and we want them to be the best. We tell them every day: you are great, you have greatness inside you."
"We come here because we care," said Del Bagno, "and we want to see this school move forward."