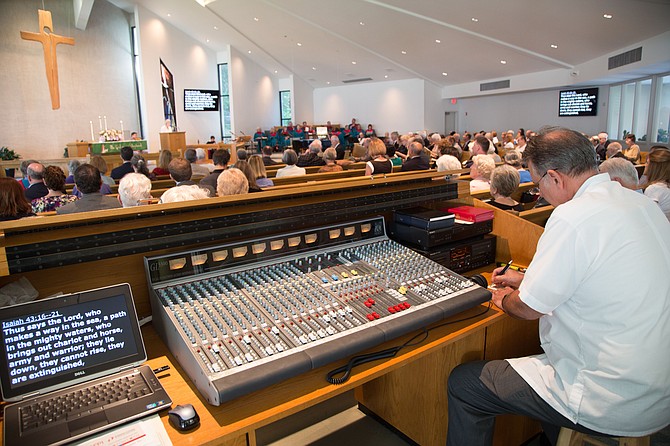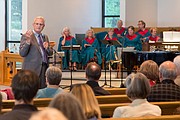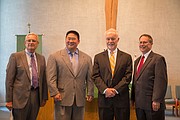 Past and current pastors gathered at Church of the Good Shepherd United Methodist on Sunday to celebrate 50 years of service to the Vienna community. "This church has a future that is much greater than its past," said Rev. Dr. Jim Noland who was the minister from 1998-2006.
Since its inception in 1967 in the cafeteria at the Flint Hill Elementary School, the Church of the Good Shepherd has had four different pastors. It came close to closing its doors and being absolved as a satellite campus of the United Methodist church according to Rev. Michael Copeland of Roanoke who was the pastor from 2015-2016 for what he recalls was a difficult time in the church and parish's life.
"I was the pastor here to lead them in a time of discernment. It was an important time when the church needed to face their past and choose a course for the future," said Copeland.
Now that future is Rev. Eric Song.
"I have been the pastor here for 15 months now. We welcome good friends and old, remembering the great 50 years in the community and excitement for the future vision of our church and to make known the love of Christ," said Song.
Other pastors were present including Rev. Wes Arthur who was the first pastor from 1971-1978. "If 140 people come every Sunday, just think of how vibrant it would be," he said. "This church isn't going to die if you don't let it."
Coming back to life was a major theme for the church and its parishioners. Heather Weger, Song's wife,was excited about the 50-year mark. "As one of the newer members of the church, it's exciting to think about the next 50 years," said Weger.
Mark Tremba, head usher at the church and a parishioner for 15 years believes that the recent success of the church is due to Song's leadership. "It's great to see a lot of members come back to the church," he said. "Pastor Eric is a great people person, and ever since he came he has reinvigorated our church!"
"It's not easy being a church, it's a challenge!" said Noland.