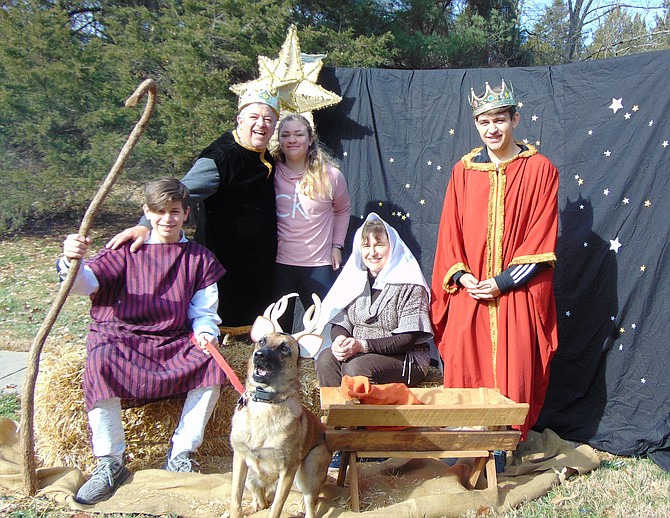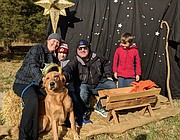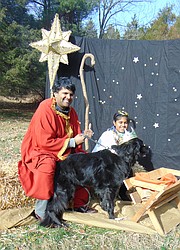 About 40 families and dogs posed for photos at the third-annual Puppy Nativity at the Church of the Good Shepherd (United Methodist) Church on Hunter Mill Road in Vienna on Saturday, Dec. 8, 2018. Dogs and their owners dressed up in costumes as part of the nativity and had their photos taken for holiday Christmas cards.
According to the Rev. Eric Song, pastor at the Church of the Good Shepherd, "Our Puppy Nativity is a creative outreach to the community where families bring in their pets who are also family and we pose them in front of the nativity for wonderful holiday cards. The original nativity had live animals as well so we're kind of living that tradition, and it's a fun way to celebrate Christmas."
The families dressed up as Shepherds and the dogs dressed as Shepherds or little angels posed against a backdrop of stars in a manager. "So, it's a cute opportunity to involve the whole family," said Song, who gave away dog treats. The church's youth group was also on hand to accept donations for Britepaths (britepaths.org). They will buy holiday gifts for people who are trying to get back on their feet, said Song.
Also attending was the Rev. Elise Bell, pastor at Fairfax Circle Church in Fairfax, who added: "I think it's important for churches to do anything that they can to be part of the community. And it's obvious that this is what this church is doing – they're not trying to make money. They're just trying to do something fun for the community and I want to follow suit."