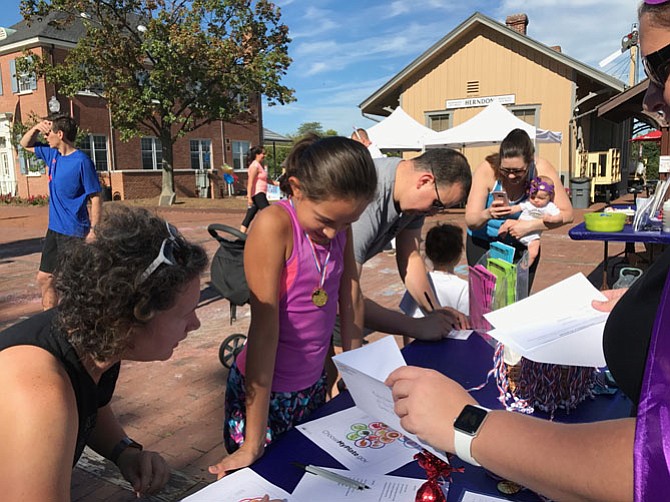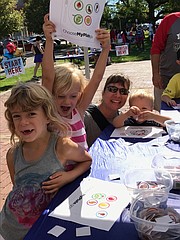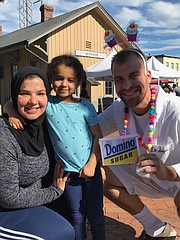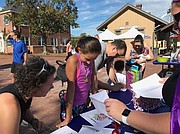 Herndon Parks and Recreation Department (HPR) strives to stand by its tagline: "Be...Active, Playful, Creative" by offering diverse, innovative programs. Early Saturday morning, Sept. 23, HPR staff donned superhero costumes complete with capes. Heads high, shoulders back, and fists on their hips, HPR staff leaped into action to produce the department's innaugural Family Fitness & Fun FEST. The event occurred on the Herndon Town Hall Square, 730 Elden St., 9 a.m.-noon.
Cynthia Hoftiezer is Deputy Director, Herndon Parks and Recreation. Hoftiezer manned the registration table where family members signed in and each received a Training Card. Hoftiezer said, "Herndon Parks & Recreation Department is excited to present this new active, family event highlighting fun, fitness, and families spending time together. We are hoping that families not only have a good time but also keep their pledge to be healthy heroes in their own lives."
As dads, moms, and children arrived at the Town Square, HPR staff and volunteers made it clear that they needed the help of all families to save the world from unhealthy villains, such as unwise food choices, aka Dr. Sugar, and limited exercise.
HPR offered each family the means to obtain "full superpowers." All they had to do was blast through the stations and get their superhero Training Card validated at each site. In addition, event goers could try out the free family-centered Zumba and Bodycombat classes offered there that morning. Lendys Bonacci is a Zumba instructor. She described Zumba as a family fitness affair. "It brings together all the family, takes the stress out, and makes the family healthy."
Kati Hutchinson of Fairfax was one of the first to arrive at the FEST. Hutchinson's two sons, James, 3, and John, 1, accompanied her. Hutchinson explained every Saturday morning she checks the local online family-friendly sites to see what events or programs are scheduled for the day. "I gave James three choices to go to today. Dulles Day Plane Pull, Family Fitness & Fun Fest, and Reston Multicultural Festival. He picked this one."
Later that morning, Hutchison was seen helping James run, jump, and climb the Muscle Madness Course, an activity-based station at the FEST. James treated it as an amusement park ride. He would complete the course, then line back up to do it, repeatedly.
Giant Food sponsored the learning station, "Power Up My Plate."
Children glued images of what they believed were wise food choices and ones they liked onto the paper plates. Most children chose wisely, although some parental encouragement was noted.
Lee Biear of Herndon brought her three children Maddie, 6, Morgan, 4, and Miles, 2. Morgan held up her "Power Up My Plate." She said, "Hotdogs, applesauce and green beans are my favorite healthy foods."
When asked how she gets her kids to eat fruits and vegetables, Morgan's mom, Lee stepped aside. She quietly shared that she sneaks healthy foods like pumpkin puree, a fruit, into the children's desserts. "We make brownies but only add a can of pumpkin puree to the mix. Nothing else. I make them in mini muffin tins, freeze 'em, then pop them into their lunches."
Ben and Katie Paris completed their Family Fitness & Fun FEST Training Card with their daughter Quinn, 3, while Baby Grace, three months old snoozed. On the Paris' "Fit Family Pledge, they agreed to "...maintain our superpowers by keeping our bodies strong and healthy. We commit to making two healthy changes in our daily lives. Walking seven times per week and eating five veggies a day." Quinn, only 3 years old, signed the pledge too.
Hoftiezer explained HPR would mail the pledge back to the family in three months along with an enclosed reply sheet asking if the commitment was kept and if not, why.
As the event was closing down, Hoftiezer provided an unofficial patron count. "I believe we're looking at approximately 100 people," she said. A fine figure for the first annual Family Fitness & Fun FEST.
For information about other special events produced by the Town of Herndon Parks & Recreation, such as the upcoming Cupcake Bike Ride scheduled for Sept. 30, 10 a.m.-12:30 p.m. and the Bark Bash & Pooch Parade, Sunday, Oct. 1, visit herndon-va.gov.