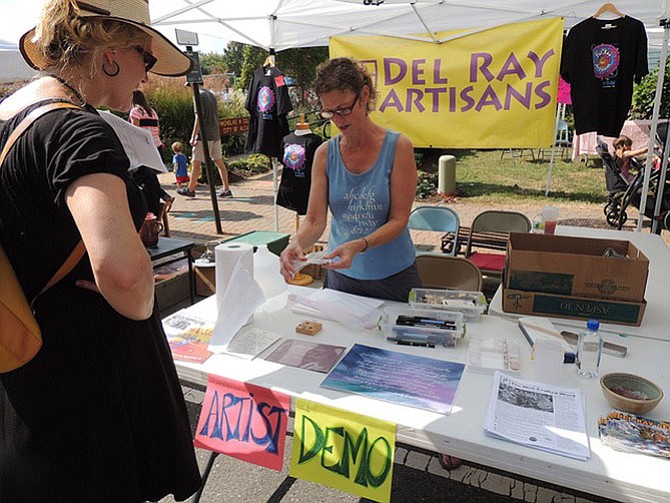 Alexandria — As Indian Summer lingers in the region, October is just around the corner and
"It hits me when the banner goes up and I think 'Wow! It's really happening. People will get to see wonderful local art again.'"
— Art On the Avenue founder Pat Miller
along with it the sweater weather that will usher in a canvas of colorful leaves to blanket the city. From foliage to festivals, Alexandria plays host to numerous events designed for everything from fitness to fun to fundraising.
The traditional kick-off to the city's fall season is the Del Ray signature event Art On the Avenue, now in its 22nd year and set for Oct. 7.
"This is just amazing," said Art On the Avenue founder Pat Miller. "I never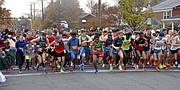 anticipated that this would become such a signature event for the city. But this is truly a home-grown event, put together by volunteers and run by volunteers. Everyone enjoys it."
According to Miller, this year's event will feature several hands-on art demonstrations.
"We have some wonderful demonstrations planned, including a mosaic artist working with furniture and a teacher and special needs student working together to create art," Miller said. "This is a different way to see and appreciate art."
More than 250 volunteers will begin setting up at 5:30 a.m. along Mount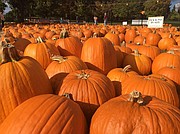 Vernon Avenue and not leave until 8 p.m.
"It hits me when the banner goes up and I think 'Wow! It's really happening," Miller said. "People will get to see wonderful local art again.'"
Another local tradition for the past two decades is the Immanuel Church-on-the-Hill pumpkin patch. More than 20 nonprofit organizations benefit from the proceeds from the pumpkin sale, including local charities such as ALIVE!, Carpenter's Shelter, Community Lodgings and Child and Family Network Centers. The sale runs throughout the month of October.
October is also Breast Cancer Awareness month.
"We are excited to have a breast cancer walk back in Alexandria" said Dr. David Weintritt, founder of the National Breast Center and Foundation. "Our area has the highest rate of breast cancer and one of the highest incidences of late stage breast cancer in the country. The walk will raise awareness and funds needed to help turn the tide."
The Walk to Bust Cancer will take place Oct. 15 at Fort Hunt Park at 8 a.m.
"The Walk to Bust Cancer will bring together breast cancer survivors and their families, those currently facing the disease and anyone who wishes to walk to show their support," said Martha Carucci, executive director of the National Breast Center Foundation and walk organizer. For more information, visit www.walktobustcancer.org.
New to Alexandria is the 42nd Annual Virginia Wine Festival. The event will be held Oct. 14-15 from noon-6 p.m. in Oronoco Bay Park and features Virginia wineries, craft exhibitors and seminars. www.virginiawinefest.com

Mount Vernon Estate will hold two of its signature events later in the month: The 20th annual Fall Wine Festival and Sunset Tour Oct. 6-8 and the Fall Family Harvest Days Oct. 21-22. www.MountVernon.org.
The Torpedo Factory Arts Center will host the 22nd Annual Art Safari Oct. 21 from noon to 4 p.m. On Nov. 3 is The Art League's beer and art evening Art on Tap.
Celebrating its 11th anniversary is the Alexandria Film Festival Nov. 9-12. The festival highlights the talents of local, national and international filmmakers and provides opportunities for audiences to ask questions and interact. www.AlexandriaFilm.org
The Del Ray Halloween Parade is celebrating 20 years and is slated for Oct. 30 on Mount Vernon Ave. www.visitdelray.com.
For those looking to give back while enjoying a night of food and fun, the Taste For Giving will take place Oct. 20 at the U.S. Patent and Trademark Office. Sponsored by the Rotary Club of Alexandria, the event raises money for dozens of local charities. www.rotaryclubofalexandria.net.
For more fall events visit www.visitalexandriava.com/fall.