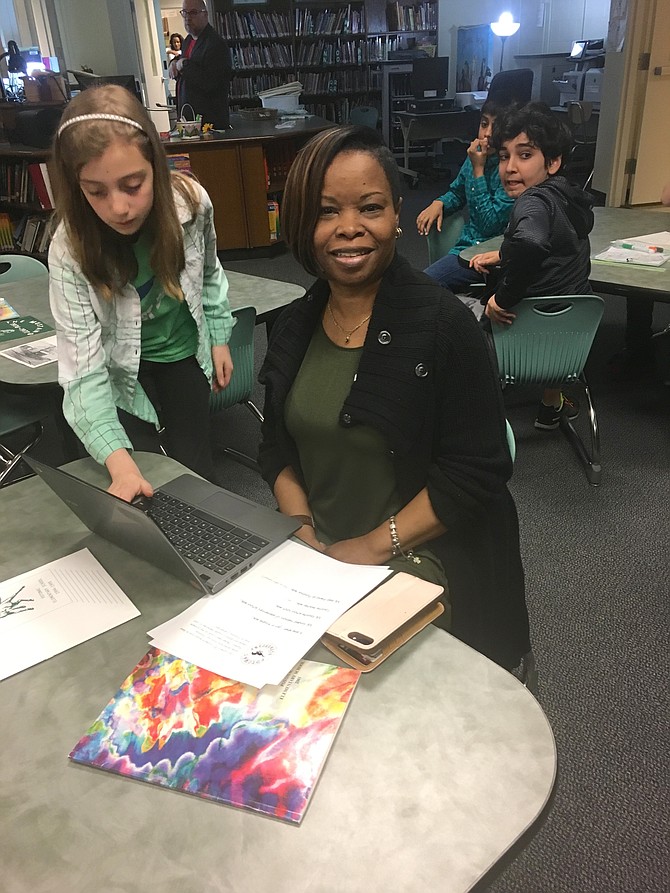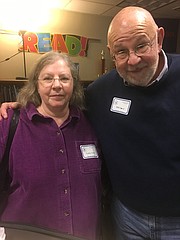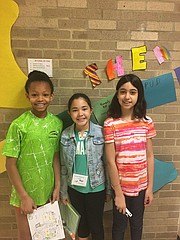 Former students of Potomac Elementary School were invited to the school Thursday morning, April 12, to take one last look at the school, meet old friends and relive memories before the building is demolished this summer.
"It was fantastic, it turned out better than we anticipated, people were showing up with boxes of photos and mementos," said Greg Barton, principal intern.
Sisters Suzy Potter Linger, who now lives in Ohio, and Carolyn Potter Summerville, of Bethesda, were among the first to arrive.
Both had fond memories of the school and mentioned that their father and uncle both attended Potomac Elementary in the 1920s when the school was located at the corner of Norton and Falls roads.
Beverly Simons Swain attend PES all six years, beginning in 1946. She was in the media center recording memories of her time at the school with the help of fifth grader Sarah Bland.
One of her questions was: "A time I got in trouble."
"I was in third grade," Swain said. "Virginia Poole was going to sit down, and I pulled her chair out. She landed on the floor. I was sent to the office and I had to make sorries to Virginia Poole. We ended up good friends."
Swain said she liked Potomac Elementary.
"It was a good school, we bonded well," she said.
Sarah Bland said she liked hearing people's answers about the time they got in trouble.
What was her answer to the same question?
"One time [in fourth grade] I made a lot of noise at lunch," she said. "I had to spend the rest of lunch sitting on the stage."
Cathy Greer, who graduated from the school in 1968 and her brother, Bill Greer, 1966, attended the reunion. Bill Greer said he attended the school for fifth and sixth grades.
Cathy Greer had a box of memorabilia including a Washington Post article from November 1968 showing some PES students on horseback.
"I'm kind of amazed by the vivid memories from the two years I was here," Bill Greer said.
Besides meeting old friends and sharing memories, alumni were treated to guided tours of the school by fifth grade student ambassadors. Along the way, there were places for the visitors to answer questions that current students could read.
Questions like: What was your favorite game? Or my school life was like….
Under that question, posted outside a Chinese Immersion classroom, someone wrote "I walked one and one-half miles to school."
That was possible years ago, some of the visitors told of crossing fields to get to school, but not now. Less than five current students walk to school daily, according to a list of fun facts the tours guides shared.
Another fact is that "PES is 91 years old, the most recent modernization was in 1976."
Suzy Potter Linger wandered the halls looking for one of her old classrooms and finally found it. Evidently, she said, the last renovation required a change in the hall configuration and the room she was looking for appeared to be in a different place.
"It was Mrs. Tamzarian's classroom," Linger said. "She was a very encouraging teacher, she took you under her wing and let you fly."
Denise Jackson Johnson, who now lives in Gaithersburg, said she came from a big Potomac family with aunts, uncles and cousins who all attended Potomac Elementary School.
"I wanted to at least pop in and let some of the memories kick in," Johnson said. "I can still remember learning the Pledge of Allegiance."
The reunion was just the thing for the school to host before the building is gone forever, according to Ginny Willis, who now lives in Urbana.
Willis attended the school from 1958-64 and her daughter, Heidi Hazel, teaches second grade there now.
"I'm very glad they will have a new building for the community," Willis said. "I'd like the positive memories to carry tradition on during construction."
As of July 2018, Potomac Elementary School faculty, staff and students will be housed at Radnor Holding Facility in Bethesda for the duration of construction on the new school. The expected date of return to the River Road site is January 2020.