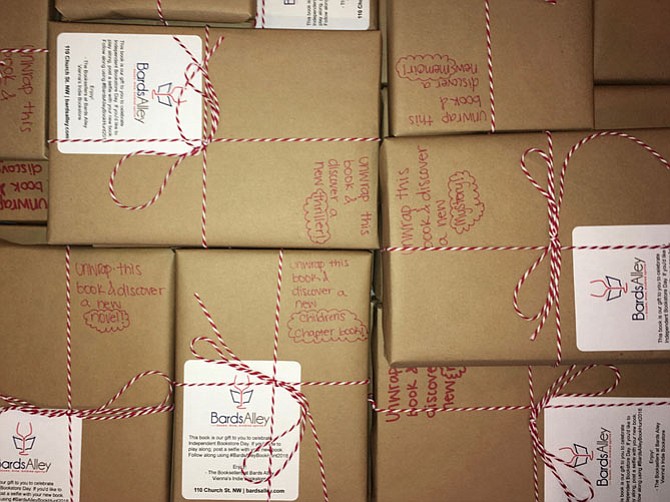 Readers of all ages are invited to discover new books during the Vienna-wide Bards Alley Book Hunt at 9 a.m. on April 28. The event, which is free to the public, is provided by Bards Alley to celebrate National Independent Bookstore Day.
Participating is easy and free: Book Hunters should look for brown paper-wrapped books tied with string and sporting Bards Alley stickers. A clue to each book's genre will be written on front. Books can be found at and around a number of local businesses, and in public spaces throughout the Town of Vienna. The Book Hunt starts at 9 a.m. and lasts until the final book is found. Follow along using #BardsAlleyBookHunt2018.
"Independent bookstores connect readers with new books," said Jen Morrow, owner of Bards Alley. "Last year we hid 60 books, and they were found within the first hour! This year we plan to hide even more. Readers can find updates and hints on Facebook, Twitter, and Instagram."
Independent Bookstore Day celebrations continue back at the store with authors appearing as Guest Booksellers.
From 11 a.m. to noon, meet Hena Khan, author of picture books, Crescent Moons and Pointed Minarets: A Muslim Book of Shapes and Golden Domes and Silver Lanterns: A Muslim Book of Colors, as well as the middle grade novel Armina's Voice.

From 1 to 2 p.m., meet Nicole Tong, author of the poetry collection, How to Prove a Theory, which won the Washington Writers' Publishing House's 2017 Jean Feldman Poetry Prize.

From 3 to 4 p.m., meet Scott Berg, author of two books of narrative history -- Grand Avenues: The Story of Pierre Charles L'Enfant, the French Visionary Who Designed Washington, D.C., and 38 Nooses: Lincoln, Little Crow, and the Beginning of the Frontier's End -- and is now at work on a third, about the aftermath of the Great Chicago Fire.