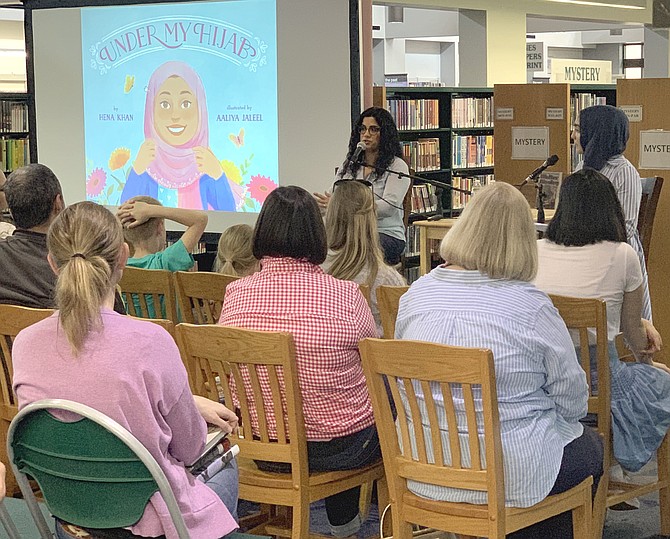 Scrawl Books, a locally-owned independent bookstore in Reston Town Center, partnered with the Reston Regional Library to bring children's book author Hena Khan to the library, Saturday, April 13. In conversation with Herndon High School student Nura Behgoman, in front of a diverse crowd of more than 80 children, teens, and adults, Khan discussed her middle grade and children's books, and her efforts to include Muslim characters in stories that are fun, entertaining, and focused on situations that affect all children.
Behgoman, an aspiring writer and avid reader who wears hijab, asked about Khan's ability to write Muslim characters without making background or religion the main focus of the story. Khan pointed out that her characters, all bearing traditionally Islamic names taken from her own family members, deal with the same issues all kids deal with: friendship problems, pressure at school, at home, and on the basketball court and soccer field.
Khan said characters in her books often visit mosques and Muslim centers, where they worship, attend pizza lunches and book sales and participate in other typical community center activities like all children and families. "As a kid, you just want to be a kid like everybody else," Khan said.
In conclusion, Khan read from her picture book, Under My Hijab, a friendly introduction to hijabs for all readers, which celebrates the many Muslim women and girls who choose to wear them.
The audience included long-time Khan fans and families who were new to her work. Funding for the program was provided by the Friends of the Reston Regional Library, and this included free copies of two of Khan's books: Under My Hijab, and Amina's Voice, to the first 20 children and teens that lined up.
"Reston was designed to be a diverse community, and we are so pleased to work with the Library to further that mission," said Rachel Wood, founder and owner of Scrawl Books. "We're committed to promoting books and authors that give readers of all ages an opportunity to recognize themselves in the characters and situations, and that celebrate our cultural similarities and differences."
Eileen Evon, Community Outreach Chair for the Friends, lead a team of volunteers to support the event. "This is why we volunteer. This is why we sort, stock and sell 30 tons of donated books a year. We love our library, and we love funding programs like this. We want to help our library be the best it can possibly be, and we want to encourage people to get the most out of our library."

Before and after the discussion, the Scrawl Books table was humming as families purchased copies of Khan's many titles, including her Zayd Saleem series about a young student doing his best to make it on the basketball team.
Scrawl Books is an independent bookstore located in the Reston Town Center.