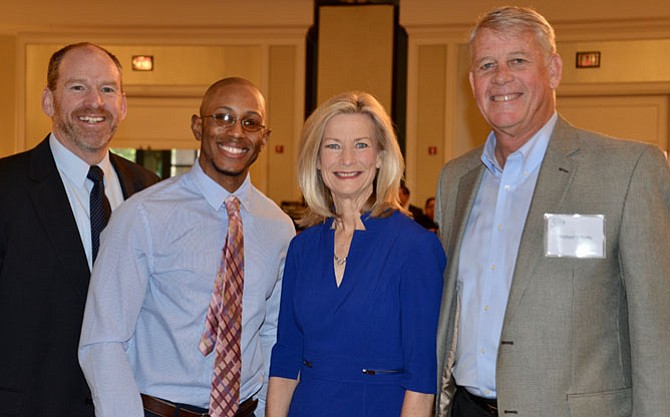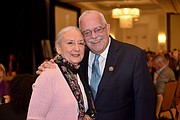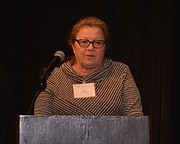 Television station NBC4's Northern Virginia Bureau Chief Julie Carey emceed the event at the Marriott Fairview Park, celebrating the 30th birthday of non-profit FACETS at the group's annual "Opening Doors" Breakfast. For its years of community service, FACETS received many kudos, but as Carey and others noted, meeting FACETS's clients, hearing their stories of struggle and of success, and focusing on the future and understanding how much more has yet to be done, was the main mission of the day.
FACETS has been tackling the causes and consequences of poverty and homelessness in Fairfax County since July of 1988, when founder Linda Wimpey started a "hot meals" program for the people she saw in need, delivering food three nights a week with the assistance of a few area churches.
Thirty years later, that simple outreach effort has evolved into a multi-faceted operation. FACETS still offers hot meals and supplies from their emergency pantry, but now, armed with a staff of professionals and the aid of some 50 faith-based communities and scores of volunteers, the organization can do more to support families and individuals living in poverty, or who are homeless or at risk of becoming so.
Case managers work with single adults and families, helping to stabilize them, avoiding eviction where possible, offering temporary accommodations where needed and assisting them toward achieving permanent housing. Parents and families receive support and training in financial, computer and life skills and are guided in accessing the tools and services needed to improve their lives. Clients are also connected with medical resources, including mental health services.
Not satisfied with addressing the needs of the moment, FACETS seeks to break the poverty cycle by providing programs for children and teens — help with homework, mentoring, school supplies, and college or career planning — just some of the offerings. In FY2015, 301 youth participated in FACETS community programs. Nearly 65 percent of those who had educational assistance achieved honor roll status, and all of the graduating seniors went on to higher forms of education.
IN THE WINTER, FACETS also partners with the county and a number of faith-based communities to operate the Hypothermia Prevention Program, offering overnight accommodations, meals and other services to the homeless.
Ralph Menzel, president of the West Springfield Rotary Club, presented Wimpey with a certificate from the Rotarians, recognizing her service to neighbors in need.
In his remarks honoring Wimpey during the breakfast, U.S. Rep. Gerry Connolly (D-11) credited her with sparking his own dedication years ago to solving the problem of poverty and homelessness in Fairfax County, taking him and his young daughter on a "ride-along" to serve meals to area homeless.
"It was eye-opening," said Connolly. "People were literally coming up out of culverts to get a hot meal. There were men in business suits. I couldn't believe what I was seeing in our own backyard."
Connolly praised Wimpey and all of FACETS as being instrumental in the development of the county's official response to the issue. During Connolly's tenure on the Fairfax County Board of Supervisors, first as Providence District supervisor and then as board chair, the county's governing body embraced the goal, establishing an Office to Prevent and End Homelessness.
"There's been a 47 percent reduction in homelessness in our community," said Connolly. "More to do, but good steps in the right direction." Connolly also brought a recognition — an official Congressional Proclamation honoring FACETS — that received unanimous Congressional approval. "That really says something about your work. That's not something you see these days."
Accepting the declaration was Joe Fay, executive director of FACETS, who said that the credit goes to all of the staff, volunteers and supporters of the organization. "You all give with your hearts and your hands."
Fay acknowledged that the "next 30 years will bring an even greater challenge" as the costs of housing and basic needs continue to increase. More education, training and support will be needed to help residents gain employment that will achieve FACETS's mission — a community "where everyone has a place to call home." Fay said that the FACETS team is working to meet those increasing demands.
THREE OF THE FACETS' CLIENTS agreed to tell their stories to the attendees, although without publication of their surnames.
Pam spoke for herself and her husband Chris. They had experienced almost four years of transitory housing or homelessness, even though they both worked. "It just wasn't enough to make it," said Pam.
Rachel, who had earned a nursing degree in Florida, fell on hard times when she escaped an untenable family situation there and moved to the area with her partner. "It was really humbling. I never thought this could happen to me. Now, I may not have much, but I have my own place and a place to put my things." Rachel is hopeful that she will one day soon be "a nurse in one of our fine hospitals here."
Howa, from a Somali refugee family, participated in FACETS' youth program, crediting the staff and her mentors there with helping her to graduate from Old Dominion University. "My case worker even came on the admissions tour and asked all of the questions I never thought to ask."
As the event concluded, the attendees were urged to sign financial commitment pledges before leaving the event. As former FACETS mentor Julie Wood said, as she provided the pledge instructions, "you see where your money goes and how much good it can do."