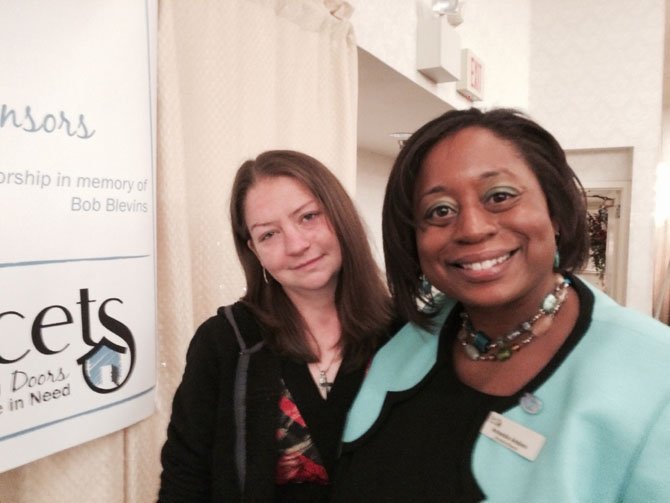 FACETS clients Carol Brown and Sandara Perry, sharing their stories to a crowd gathered at the FACETS Opening Doors breakfast on April 24, confirmed the unfortunate fact that homelessness and poverty do exist in Fairfax County.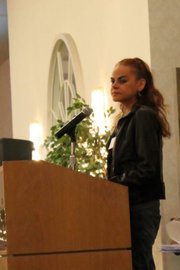 But because of the help of FACETS, a Fairfax-based organization seeking to end poverty, and its many supporters and volunteers, the two were able to get back on their feet and are looking forward to a bright future.
Carol Brown was a nurse for 27 years who became sick and was unable to work. She was forced to spend her savings on medical needs and lived in her car when she wasn't in the hospital.
"I lost my place, I lost my savings. It was very difficult, very scary," Brown said. "It can happen to anybody."
Brown, who is planning to return to work as a nurse after she regains health, said that without FACETS and the help of Latoyl Whittington, she wouldn't have known what to do.
"All homeless people are not on drugs, they aren't alcoholics-it can happen to anyone. FACETS helped me get out of the car and get into a place. They truly are there to help people," Brown said.
After being homeless for nearly four years, Sandara Perry, 29, recently moved into permanent housing through the FACETS TRIUMPH II program, which provides permanent homes for chronically homeless individuals.
Perry told the audience gathered at the breakfast that she grew up in a poor family and was put into foster care after her mother fell into addiction. She also faces health problems of her own and has experienced abusive relationships.
Without FACETS, Perry said, she wouldn't have her apartment, or her goal of returning to college to study art.
"I had no clothes except the clothes on my back. I had nothing. I had no support at all. And then I ran into FACETS," Perry said. "Without the support of FACETS, I would still be on the street. I would not be standing here today if it were not for the help and support of FACETS."
The answer to homelessness and the solution to ending poverty is not more temporary shelters, but permanent housing, advocates say.
"We know the answer to the urgent question of how we end homelessness is not more temporary shelter, it is not more temporary housing, it is a permanent, affordable place to live that will allow mom and dad to get ready for work in their own bathroom, a kid who has been doing his homework in a motel room to have his own quiet place, and a veteran living in the woods for over 15 years to have the dignity of a bed to sleep in," said FACETS executive director Amanda Andere.
A home not only changes clients' lives, but saves their lives, Andere said.
"Our community's most important and urgent question is how do we go from charity to change? How do we go from help to giving people hope? How do we turn that hope into working with others to realize the dreams we all have for ourselves?"
According to the results of the 2014 point-in-time count of homeless individuals in Fairfax County, on January 29, 2014, there were 1,225 people who were homeless in the county, a reduction of 125 people from the 2013 count. However, more permanent housing is needed in order for this reduction to continue at this rate.