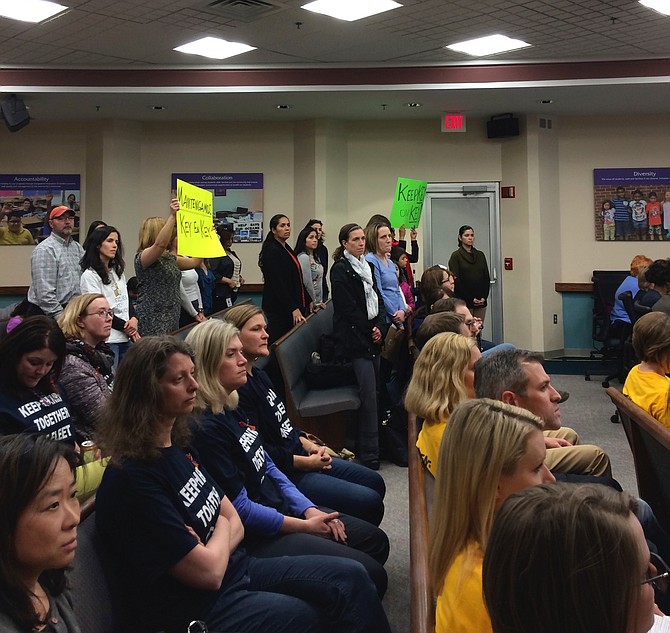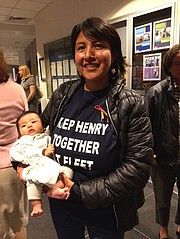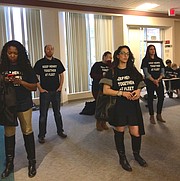 On Thursday, April 18, the School Board heard from a long list of parents who were angry about budget cuts and elementary school school changes. Some parents and teachers wore shirts identifying their school causes, and raised fists and snapped fingers to express agreement with speakers.
Hans Fenstermacher was the first of 12 speakers in the first session; he told the board he was there to support world languages, and the FLES (Foreign Language in the Elementary Schools) program specifically. "I want to speak to you from a professional standpoint," he said. "I have spent 35 years providing multilingual services and technology in the private sector; and one thing my colleagues and I can agree on is that our toughest business challenge is finding people who have the ability to interact with other cultures in other languages. You see, we can teach employees lot, but we can't teach them that. Sixty-three percent of U.S. businesses said higher education needs to do more to prepare students; we universally agree we can't teach people how to interact with other cultures; we can teach coding, but we can't teach language proficiency. So, people who come to us with those skills rise to the top of the resume pile every time. Languages aren't like some of the other parts of of the curriculum; they require repetition, repeated exposure, and starting early. The FLES program is built on this very principle. Arlington Public Schools has one of its mission statements, to educate global citizens so I'd like you to find the budget to support that."
The Montessori Schools Action Committee noted the importance of of Montessori and the fact that two-thirds of the Montessori seats are reserved for underserved children. "Montessori schools have a history of a little more than 50 years in our community. We also generate $1.4 million in revenue for APS. You have asked us to take the largest cuts of any program: Dr. [Patrick] Murphy's budget cut of 13 positions to our program was without any consultation with school officials or parents."
Sara Aramendia, head of the World Language Advisory Committee also spoke. She stressed that the FLES program started 12 years ago; the first students are now seniors. Ninety percent of the students are meeting or exceeding the proficiency goals by the 5th grade. She also noted there is a way to preserve FLES instruction and still reduce costs. Only 59.7 of the 73 positions provided to the FLES program are being used for FLES; the other 13.3 are not. "If we focus the 11. 5 position cuts on those "other" uses of FLES positions, then we can continue to teach FLES from KG-Fifth grade at 90 minutes a week."
Katherine McGwier, also of the World Language Committee, spoke about the value of language, art, music, and other "non-core" subjects. "Children and their families will not get these years back," she said. "Study after study confirms that exposing children to language, music, art, and theatre cultivates students who are confident, resilient, culturally empathetic, and strong communicators. Languages, art, and music help develop a robust neural roadmap before the hard wiring sets in. "Mental health concerns in APS are on the rise. More and more students are suffering from anxiety and depression and having trouble managing their academic load; but languages, music and art helps students with robust coping skills built early on that will help them as they grow older. Language, music, and art all foster cohesive academic communities; every single kid in band, art, theatre, choir; every performance, every language interaction inherently provides a sense of place."
The largest single issue at the meeting was the draft plan for neighborhood and option schools. To prepare for the opening of the new Alice W. Fleet Elementary School and Drew Elementary as a full neighborhood school in 2019, and a new elementary school at the Reed site in 2021, Arlington Public Schools is putting in place plans to develop new elementary school boundaries between now and November 2018. Elementary school walk zones are currently being reviewed. Students who now attend Patrick Henry Elementary School would move en masse to the new school when it opens, and the Patrick Henry building will then be used to house students now in the Montessori program at Drew Model School.
But apparently not all Patrick Henry students would move. Parents and teachers at Patrick Henry Elementary School said they wanted to keep Patrick Henry, in its entirety, at the new school, Fleet. "We were excited when we found out Patrick Henry would be Fleet," said Melissa Logsdon, PTA president. "It was supposed to be all of Patrick Henry. Diversity is our strength. Breaking us apart even by one subdivision will change all that."
High on the list of concerns was the proposal to make Nottingham Elementary School an "option school" rather than a neighborhood one. A Nottingham mother said what was important in her choice of a school system for her elementary age children was "safety, nurturing, and community." "We currently have 80 percent walkers, but with this change [we would] have to put more than 400 kids on buses. How can that meet those three criteria?"
Arlington Science Focus School also had a large contingent of educators and parents who wanted the school to remain in its current location. Key Elementary School, with its neighborhood focus and immersion program, is also scheduled to change buildings according to the draft plan, and parents complained that the plan would shut out many neighborhood children who are also from Spanish-speaking families and "make Key what it is."
Some parents decried the reduction of positions allocated to special needs students and wanted assurance their children's needs would be met with the reduced number of classroom assistants.
Among other topics raised, Challenging Racism, a program developed to improve APS students' and parents' sensitivity and commitment to racial inclusion, brought many parents and teachers to the podium. One parent of a child at H-B Woodlawn said he had been on both sides of the issue as a Muslim-American. "What's in fact important is what's happening on the ground. We have serious racial problems in the county. We have neo Nazis flying the confederate flag on Dominion Hill. Challenging Racism taught me what is my piece of this mess and what I can do to improve it and to get the tools to do that."
Audrey Clement, a Westover resident, recognized the difficult decisions the School Board had to make to reduce the budget deficit. She referred to the "top heavy administration" at APS. According to data from an FOIA request, she said, "APS top administrative personnel earn an aggregate of $17.2 million, which is more than the size the original APS deficit."
At the end of the meeting, both Murphy and School Board chair Barbara Kanninen noted there would be additional time for input, with staff recommendations open to April 30.
Murphy said that evening "our county colleagues are working on their mark up of the budget." May 3 is the next School Board meeting. Kanninen reminded attendees that on the elementary planning initiative, there will be many opportunities to speak going forward. "There will be two or three times when there is an unlimited time to speak, we have open office hours, and we appreciate your emails. Your comments make us very proud of what we have in our Arlington schools. We on the board are all parents, and it matters a lot to us. We are waiting for the staff recommendation, that is the next stage, and there will public hearings."
To see the entire meeting, visit www.apsva.us/school-board-meetings/view-school-board-meetings/ and to attend one or more of the upcoming public commentary events, see www.apsva.us.