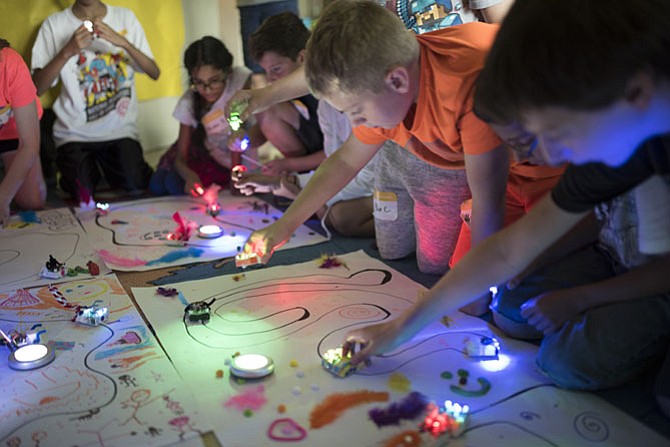 "[Camp Invention] has sponsors that provide funding that's used to help underrepresented kids attend the camps." — Ken Torisky, National Inventors Hall of Fame
One of the great pleasures of summer is going to camp. From kayaking and rock climbing to horseback riding and sailing, camp is a place where lifelong memories are created. A recent study by the non-profit, global policy think tank RAND Corporation shows that voluntary summer programs like camp have a significant, positive impact on low-income students during a time when they fall behind their wealthier peers both academically and socially.
Katie Crump, a case manager at Interfaith Works, a non-profit organization dedicated to helping the poor and underserved, says that the luxury of summer camp often eludes those who need it most.
"The opportunity of attending a real summer camp is a big thing for them. Unfortunately, this experience can be unattainable due to the high cost and finding transportation among other things," said Crump. "Attending summer camp affords kids a special and important experience that's all their own. It allows kids to be kids, something that is particularly vital for low-income children who are often forced to deal with the burdens of adulthood at a young age."
Despite the cost of summer camp, keeping children engaged during the stretch of time between June and August when school is not in session is a critical part of their development, says Jerome Short, Ph.D., associate professor of psychology at George Mason University.
"Summer camps give opportunities for children to develop social, emotional, cognitive, and behavioral skills," he said. "Some research shows that higher [socioeconomic status] children increase academic and behavioral skills over the summer and lower [socioeconomic status] children lose skills over the summer. Research shows that lower [socioeconomic status] children benefit from learning social and behavioral skills in different settings with new peers and challenges to apply their skills."
Even with limited resources, summer camps can still be accessible, says Tom Rosenberg, president and CEO of the American Camp Association (ACA). "There is a camp for every budget," he said "[Most] ACA-accredited camps provide some form of scholarship assistance. Reach out to the camp directly to ask about specific financial aid and scholarship options."
The RAND study also showed that even though low-income students can lose up to two months of math and reading skills over the summer, high-quality summer programs can bridge that gap. Science, Technology, Engineering and Mathematics (STEM) camps are an example of programs that can be effective, but possibly unaffordable for some families.
Wolftrap and Colvin Run elementary schools in Fairfax County will be the site of a non-profit STEM camp called Camp Invention. Organized by the National Inventors Hall of Fame (NIHF), the hands-on program is designed for children in kindergarten through sixth grade. Through activities like building robots and designing gadgets, campers get a sense of what it's like to be a physicist or engineer.
"The program has sponsors that provide funding that's used to help underrepresented kids attend the camps," said Ken Torisky, spokesman for National Inventors Hall of Fame. "The money is distributed to students by the school district."
Options for financial assistance for summer camp run the gamut from discounts for dependents of those serving in the military to camp funding offered by churches, synagogues, and civic organizations. "I would suggest to parents that they look into their child being sponsored by a local business to attend a camp or look into payment plan options at a camp that they are interested in attending," advised Stacie Gottlieb, director, Bullis Summer and Extended Day Programs in Potomac, Md.
While Bullis does not offer financial assistance for summer camp, Gottlieb says that there are discounts for early registration and registering for multiple weeks of camp.
Parents should check to see if a camp participates in U.S. government assistance programs, particularly those with income eligibility requirements, like Title XX, advises Rosenberg. While it might be too late for this summer, he encourages parents to explore Dependent Care Flexible Spending Accounts and a Child and Dependent Care tax credit through the FSA Feds website: https://www.fsafeds.com/.
"I generally think lower income children benefit when they have access to the same opportunities as upper-income children and also gain cultural skills and knowledge important to upward mobility when they have opportunity to interact with upper-income kids," said Amy L. Best, Ph.D., professor and chair, Department of Sociology and Anthropology at George Mason University. "I also think upper-income kids gain mightily when they have genuine interactions with kids from other class backgrounds. Because empathy, cross cultural understanding, and an ability to work in diverse groups are skills that this new century demands, having opportunities to hone those skills are of value for all involved."