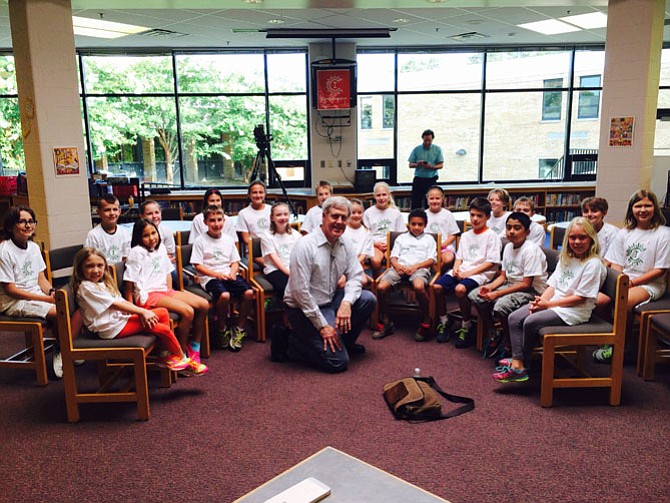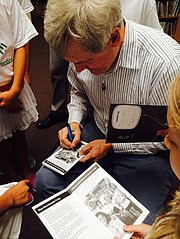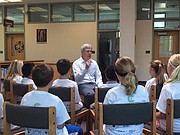 Steve Sasson was just 25 years old and beginning to work his way up at the Eastman Kodak Company when he got an assignment from his supervisor: build an electronic camera using a charge coupled device. The result — U.S. patent number 4,131,919 — earned Sasson induction into the National Inventors Hall of Fame for what is known today as the digital camera.
"I was too young to think it couldn't be done," Sasson said at the Inventors Hall of Fame ceremony in Alexandria earlier this year.
Sasson was back in the area last week to pay a visit to children attending Camp Invention, a summer day camp that focuses on STEM skills, creativity and innovation through hands-on activities and experiences.
Held at Fort Hunt Elementary School Aug. 6-7, the curriculum was created by National Inventors Hall of Fame inductees, U.S. Patent and Trade Office representatives and educators in an effort to prevent "summer slide, a term used to describe the loss of students' academic skills and knowledge during the summer.
"Camp Invention provides us, as inductees, the opportunity to inspire and challenge children through our experiences in youth and beyond," said Sasson, a 2011 NIHF inductee.
According to a Harris Poll study, 65 percent of parents acknowledged that they take action to prevent summer slide. Yet only 38 percent of those parents consider registering their children for educational summer camps, such as Camp Invention. The study also reveals that students lose an average of one to three months of what they have learned upon returning back to school after summer break.
Camp Invention's 2014 curriculum was themed "Morphed!" and immersed elementary students in hands-on activities where attendees had an opportunity to build original prototypes, create a personalized motor-powered vehicle and disassemble electronics to build an insect-themed pinball machine.
"We work with our partners – who include world-renowned innovators – to create programs that inspire inventive thinking and creative problem-solving, while sharpening students' STEM skills," said Mike Oister, CEO of Invent Now, which coordinates Camp Invention. "The students that go through Camp Invention have bright futures ahead of them and we are proud to be a part of an organization that will continue to inspire innovation in youth for many decades to come."
Camp Invention is the only nationally recognized summer program focused on creativity, innovation, real-world problem solving and the spirit of invention. Through hands-on programming, Camp Invention encourages children in grades one through six to explore science, technology, engineering and mathematics curriculum while being inspired by some the world's great inventors.
Camp Invention, the National Inventors Hall of Fame and the Collegiate Inventors Competition serve as the authority on inspiring invention and comprise Invent Now. Through these three entities, over 250,000 children, teachers, parents, college students and independent inventors are encouraged to explore science and technology programs every year.
"Developing future inventors, innovators and entrepreneurs and instilling the core values of creative problem-solving sets this camp apart from the rest," Sasson said. "Children leave after a week with skills that will last a lifetime."
For more information, visit www.campinvention.org.