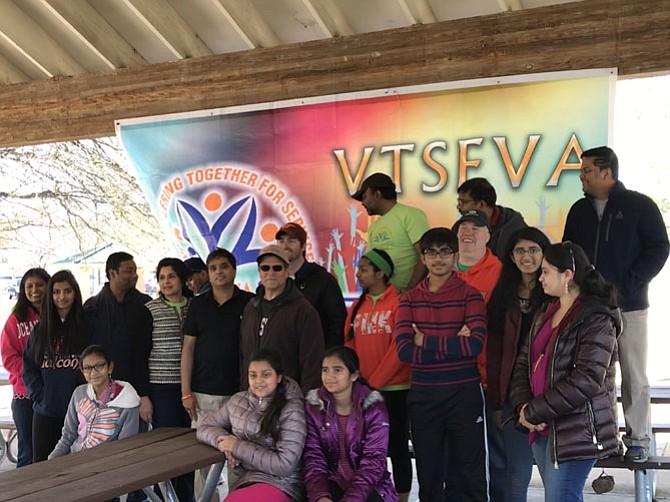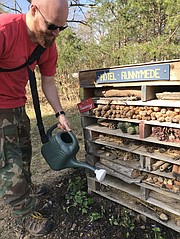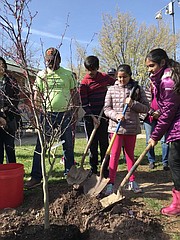 Three environmentally conscious events brought hundreds of local citizens out to volunteer, recycle, and celebrate on Saturday, April 21, 2018, in the Town of Herndon.
Town Parks & Stream Clean-Up, 8 a.m. - noon at Runnymede Park, Herndon
At the Town Parks and Stream Clean-up citizens volunteered to help plant, cleanup, and beautify the park and nearby streams.
Johnathan Lacher, a board member Friends of Runnymede Park, bent down on his knees planting violets around a strange looking box of shelves created with an assortment natural items--corn cobs, drilled wood, rotting logs, bundles of twigs, sticks, and stems. "We're fancy'n up the insect hotel, a place for any insect to go into hibernation," Lacher said. The legion of different insects will help pollinate the gardens and prey on pests. Other volunteers planted, weeded, and removed litter from the park.
Recycle-Shred Event, 9 a.m. - noon at Runnymede Park, Herndon
In the parking lot at Runnymede Park, a line of vehicles waited to be next in line free and secure document shredding service by SHREDPROS who provided secure on-site document destruction people could watch.
Citizens brought up to five containers of papers they did not want in the hands of others, such as tax returns, insurance and bank information, canceled checks, financial and credit card statements, and personal information such as medical records, wills, deceased information.
Pat Voltmer of Herndon sat in her car as staff from PROSHRED removed the bags of confidential information from her front passenger seat. "I heard about this event in the newspaper and on the Town Calendar, " said Voltmer. "I had stuff from 2001, and I'm decluttering. Shredding is environmentally conscious and safe for sensitive matter."
Say "Trees!" Town of Herndon Holds Earth Day & Arbor Day Ceremony
At the third event, citizens gathered to celebrate trees and plant. The Town of Herndon is one of more than 3,400 towns and cities nationwide which benefits from cleaner air, shade, lower energy costs, and stormwater control through a vital urban forest management framework the town embraces powered by its involvement with the Tree City USA community improvement program.
Youth from the nonprofit organization VTSEVA were on hand to help with the tree planting. Among the many things VTSEVA does, the organization promotes understanding and tolerance by empowering their youth with value of volunteering and philanthropy. In turn, the youth "learn how to plan, develop, and implement projects for protection of animals and environment... [and in doing so] build bridges between different communities."
John Dudzinsky, Community Forester Town of Herndon, emceed the event. Dudzinsky said that the town had celebrated an official Earth Day/Arbor Day event for Tree City USA for 29 years, since 1989. He added: "The Tree Award program encourages and recognizes communities that take care of their urban forest. Trees in nature are vital to people's health. Herndon can be happy they have been recognized as a Tree City USA."