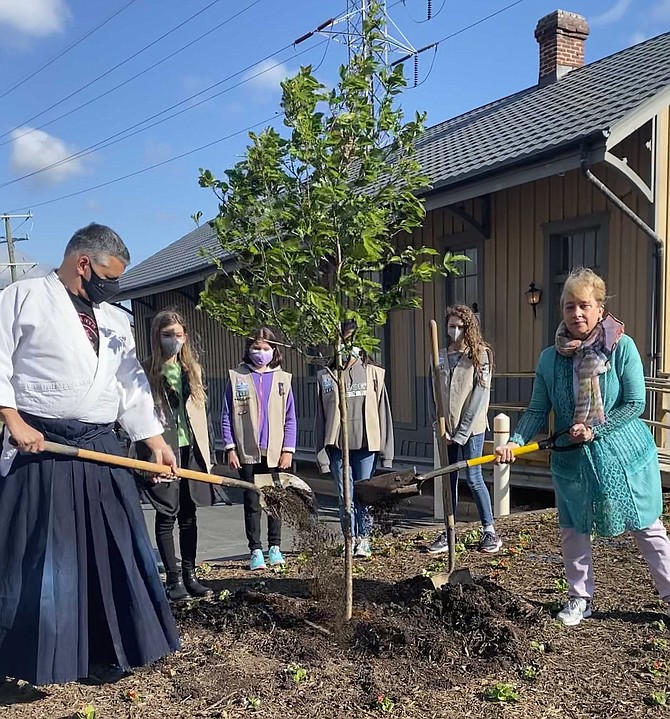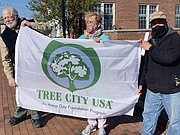 The Town of Herndon hosted its 32nd Arbor Day Tree Planting Ceremony on the Town Hall Square, Saturday, April 17. Mayor Sheila Olem, Community Forester John Dudzinsky, and guests participated. The ceremony celebrated the importance of the Town's urban tree canopy and the care it assumes to nurture it. "The Town did not get an opportunity to hold an Arbor Day Ceremony last year due to the COVID pandemic. It is nice to hold one this year," said Dudzinsky.
According to the Arbor Day Foundation, trees tame stormwater and fight climate change. They are called the low-tech solution to energy problems. "I'm so excited to be here on the 32nd Anniversary of Herndon being named a Tree City USA and receiving the tree Growth Award," said Mayor Sheila Olem. She recognized Jim McGlone, Virginia Department of Forestry Urban Forest Conservationist who would present the recognitions, Brian Ericksen, owner of Heaven and Earth Aikido on Spring Street, who donated funds on behalf of the dojo to purchase a Yoshino Cherry tree to plant on Arbor Day 2021 and St. Joseph School Girl Scout Troop 2421, who provided support for the purchase of flowers to fill the tree's garden bed.
"Aikido is about self-defense but just as important to the art is giving to others and encouraging growth. It is in that spirit that the tree was given," said Erickson in a statement since he could not attend the ceremony. Tony Breda, Chief Instructor at Heaven and Earth Aikido, added," We are glad that we were able to help make the Town more beautiful." The long-lasting tree is known for its exotic branching pattern and springtime display of large, showy white blossoms with a touch of pink. The Arbor Day 2021 Yoshino Cherry tree will be approximately 40 feet tall with a branch spread of 25 to 40 feet at its mature height.
"One of the things that we are learning about having trees and having nature in our environment is that it helps reduce stress," said McGlone. The Town has been a certified Tree City USA Community for 32 consecutive years by meeting four core standards of sound urban forestry management. It maintains a tree department, has a community tree ordinance, spends at least $2 per capita on urban forestry, and celebrates Arbor Day, according to McGlone.
"It is my pleasure to recognize the Town of Herndon as Tree City USA," said McGlone,
The Town's first Arbor Day celebration took place on April 29, 1989, with the planting of a Gingko tree at Herndon High School. Dudzinsky noted that construction crews removed it during the recent Herndon High School renovation project. "That was the first tree I planted in Herndon," said Dudzinsky. "My second tree is still around, though."