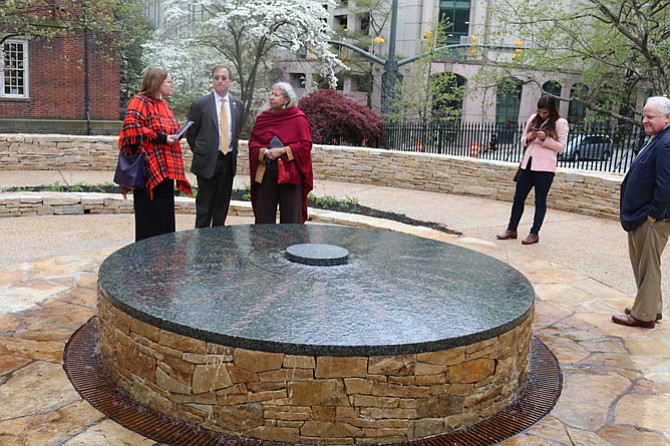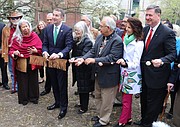 Running Strong for American Indian Youth, headquartered on Richmond Highway in Mount Vernon, is a major supporter of "Mantle," a permanent monument erected on Capitol Square on the grounds of the historic Virginia State Capitol in Richmond.
On April 17, the tribute to Virginia Indians was dedicated at a ceremony which included remarks by Gov. Ralph Northam, the artist Alan Michelson, and Chief Emeritus of the Upper Mattaponi Indian Tribe Ken Adams.
The Virginia Indian Commemorative Commission was formed by the Virginia General Assembly to recommend an appropriate monument to commemorate the life, achievements and legacy of American Indians in the Commonwealth.
Mantle, which combines four integrated spiral elements to create the shape of a nautilus (a living fossil that has been replicating itself for 500 million years), consists of a five-foot wide winding footpath that follows the outline of the monument and a continuous smooth stone wall which also serves a bench.
A meditation area, located at the center of the spiral, features an infinity pool made to resemble the pottery indicative of where the names of the 11 tribes of Virginia are engraved.
Among those attending the ceremony were Running Strong Executive Director Lauren Haas Finkelstein and General Counsel Paul Krizek, a member of the Virginia House of Delegates.
For more information about Running Strong for American Indian Youth, located at 8301 Richmond Highway, Alexandria, visit http://indianyouth.org/ .