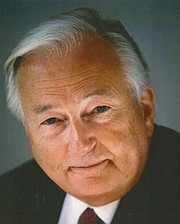 Former U.S. Rep. Al Swift, an Emmy award-winning broadcaster who represented the 2nd Congressional District in Washington state, died April 20, 2018 of natural causes. An Alexandrian resident, he was 82 years old.
He was first elected to the U.S. House in 1978, succeeding Lloyd Meeds, for whom Swift served as top aide from 1965 to 1969. Swift won re-election to Congress seven times, retiring in 1994.
House Speaker Tom Foley often spoke of legislative "show horses and work horses" – Al was known as a work horse who more than held his own on the powerful Energy and Commerce Committee. Congressional Quarterly's Politics in America put it this way: "Patient, diligent and disdainful of publicity, he is one of the most impressive legislators to arrive in Congress in recent years."
In his first term, he drafted the Northwest Power Act, and in subsequent terms he helped to forge bipartisan Clean Air Act and Superfund legislation. As chair of the Transportation and Hazardous Materials Subcommittee, he worked to restore Amtrak service between Seattle and Vancouver, B.C., and promoted high-speed rail nationally through the Swift Rail Development Act of 1994. Rail safety and hazardous materials legislation were other priorities.
Swift also became Congress' ranking expert on election law. As chair of the House Elections Subcommittee, he authored and led the passage of the National Voter Registration Act of 1993, known as the "motor-voter" law, which expanded voter registration options nationwide. Accessible polling places and easier overseas voting were other legislative accomplishments.
He helped craft the Washington Wilderness Bill and did not neglect local issues such as easier border crossing, Elwha River fish restoration, land conservation, and many infrastructure improvements.
Allan Byron Swift was born Sept. 12, 1935, in Tacoma, Wash. Growing up in Tacoma, life revolved around the Methodist church, his younger brother Larry recalled.
"We grew up in a family with very clear standards, drawn from the Methodist Church. Our dad was a truck driver for Coca Cola and turned down a job driving for Heidelberg at twice the salary because our parents didn't think it would send the right message to us. Neither my brother nor I were believers in the conventional meaning, but the core values of our parents were central to Al's world view – compassion, a sense of justice and fairness – the kind of values that it takes for a society to live together peacefully."
Swift received a bachelor's degree from the Central Washington College of Education in 1957.
His first career was in broadcasting – first in radio, then as news director for KVOS-TV in Bellingham. He was known for his skills at oration and humorous storytelling, often with a cigar in hand, which served him well during his Congressional career.
"Al accomplished so much for Washington state during his career," said Gov. Jay Inslee. "On the environment, energy, and voting, but today I miss him for this: Al could tell a humorous tale and enjoy a laugh as well as anybody, anywhere."
"Al Swift was the first elected official I remember meeting as a kid," said U.S. Rep. Derek Kilmer (WA- 6th District). "I was probably seven or eight years old and I remember him telling me a joke (the first of many in the nearly four decades since — the jokes got a bit more mature as I did). At 19, I interned in his office. Not only did he instill in me the value of public service, he taught me something I'll never forget. On the last day of the internship he invited me into his office and said 'I'm now going to teach you the most important lesson of this internship.' I keenly waited on the edge of my seat as he opened his desk drawer and said, 'I'm going to teach you how to light and smoke a cigar' (which was my first and last.)"
U.S. Rep. Rick Larsen (WA-2nd District), said he knew Swift first as his representative and later as a mentor and friend. "I will remember Al for his work on transportation, especially rail; for his efforts to increase access to the ballot box; but mostly for his gut-busting stories. When asking me which district I represent, people used to ask if I was in the 'Al Swift seat.' Even today, my answer is still a proud, 'Yes.'"
Swift was married to Paula (nee Jackson) for 56 years and they had two daughters, Amy and Lauri. Paula died in 2012. Just as Al was a mentor to many in politics, Paula was a dedicated teacher who made a lasting impression on many students.
After leaving Congress, Al and Paula chose to live in Alexandria, close to their two daughters and their families. The two were dedicated grandparents and loved traveling with family and friends. They made annual trips home to Washington state and, in recent years, Al would often be accompanied by one of his daughters. This past summer he made the trip with his granddaughter and great-grandson. Al wanted to show his great-grandson the tide flats near Bellingham Bay, where he once produced "Tidepool Critters" for KVOS TV.
He is survived by his brother Larry Swift (Earlyse) and his daughters Amy (Dan) Donovan and Lauri Swift and three grandchildren and one great grandson.
Memorial services will be held on May 5, at 1 p.m. at Everly-Wheatley Funeral Home in Alexandria. The family is also planning a service in Washington state later in the summer.
Memorials are suggested to The Congressman Al Swift Scholarship Endowment. Gifts to the fund can be made at https://foundation.wwu.edu/AlSwiftEndowment or by check to the WWU Foundation, 516 High Street, MS-9034, Bellingham, WA 98225.