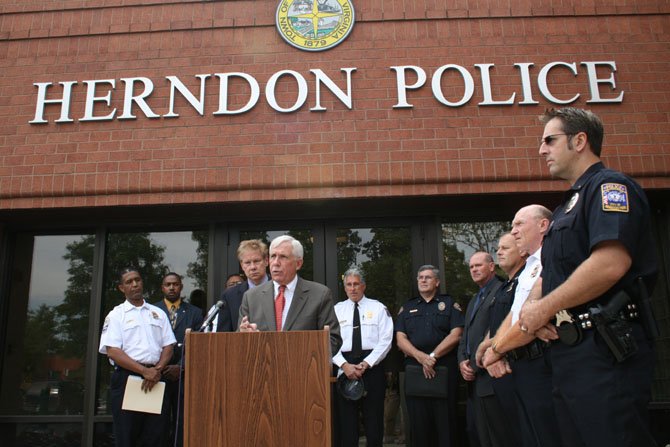 After 34 years of representing constituents in Virginia's 10th Congressional District, U.S. Rep. Frank Wolf (R-10) announced Dec. 17 that he would not seek reelection to the House of Representatives seat he has occupied for 17 terms. Wolf expressed his appreciation toward his family, staff and all of his constituents who supported his efforts in office.
"It has been an honor to serve the people of Northern Virginia and the Shenandoah Valley," said Wolf in a statement issued by his office. "I thank my constituents for giving me the privilege of representing them in Congress for 34 years."
Wolf, 74, has established himself in his congressional tenure as an advocate for religious freedom, repeatedly drawing attention to helping oppressed minorities around the world. First elected in 1980, Wolf worked to combat genocide in Darfur and advocated for increased security and protection of human rights for victimized groups in Sudan. Most recently, in September 2013, the House passed a bill co-sponsored by Wolf and U.S. Rep. Anna Eshoo (D-Calif.) aimed to create a State Department envoy charged with protecting religious minorities in South Central Asia and the Middle East.

Wolf's Transportation Initiatives
*When the need for mass transit to Dulles airport became clear, Congressman Wolf secured federal funding for the Commonwealth to move ahead. Phase 1, from East Falls Church through Tysons Corner to Wiehle Avenue in Reston, is expected to be operational in 2014. Congressman Wolf also was a key player in the construction of the original Metrorail system.
*When it became clear an additional westbound lane on I-66 inside the Beltway was needed, Congressman Wolf led the effort to convince the Commonwealth and surrounding localities to move forward with the project. The first of three spot improvements opened in December. He also pushed for the now completed feasibility study for a Bus Rapid Transit (BRT) system in the I-66 corridor. BRT is essentially a rail car on wheels that uses dedicated lanes, platform loading and enhanced fare collection.
*When HOV-4 didn't work on I-66 inside the Beltway, Congressman Wolf helped change the rule to HOV-3. When HOV-3 wasn't working, he helped change the rule to HOV-2.
*When funding was needed to jump start improvements to the I-66 / Route 29 interchange in Gainesville, Congressman Wolf worked with former Congressman Tom Davis to secure more than $30 million in federal funding. Work on the interchange is ongoing.
*When morning traffic delays on the George Washington Parkway at Spout Run were part of the daily routine, Congressman Wolf worked to get a dedicated lane built to improve traffic flow and ease congestion.
*When traffic bottlenecks on the Teddy Roosevelt Bridge created gridlock into and out of the nation's capital, Congressman Wolf convinced the District of Columbia to install a reversible lane on the bridge.
LOCALLY, WOLF was instrumental in bringing the Silver Line currently being built to Northern Virginia, and begun working to secure federal funding for the rail project as early as 1999. He also prioritized improving major roadways such as I-66 and Rt. 50 to ease traveling for Northern Virginia's commuters.
Though his final term as representative for Virginia's 10th Congressional District will end in November, Wolf plans to continue with human rights advocacy through his Christian faith. "I plan to focus my future work on human rights and religious freedom — both domestic and international — as well as matters of the culture and the American family," Wolf said in his official statement.
On Dec. 10, one week prior to Wolf's announcement, Supervisor John Foust (D-Dranesville) announced that he would seek the Democratic nomination for the 10th district representative seat in 2014. Foust is currently a supervisor for the Dranesville district, which encompasses McLean, Great Falls, Herndon and portions of Vienna, and has served on the Fairfax County Board of Supervisors since he was elected 2007.

Foust cites the current Congress's dysfunction and the 16-day shutdown of the federal government in October 2013 as some key reasons he will run for office in 2014. "My job is to work with everyone, respect all opinions, hold public meetings and generally try to find a consensus that works in the best interest of the community, and I think that's missing in Congress," said Foust in an interview. Foust pointed to the board's approvals of major building projects such as renovations to the Spring Hill recreation center and the recently completed Wolf Trap fire station in McLean, as evidence of his ability to work across party lines. He also noted the board's success in moving Fairfax County through the 2008 fiscal crisis as a key accomplishment of his time in office.
Additional candidates for the Democratic nomination include Fairfax attorney Richard Bolger and Leesburg architect Sam Kubba.
Wolf has faced little formidable opposition from Democratic candidates in past years, and since 2008 has won each election by at least 58 percent. There is speculation about potential Republican candidates who will seek the Republican nomination for Wolf's seat, including state delegates Tim Hugo and Barbara Comstock. The Republican Party of Virginia was contacted for comment, but did not respond by deadline. It remains to be seen whether the party will nominate its candidate for the House seat through a convention attended by Virginia Republican Party members or through a primary in which individual candidates will campaign for the nomination.
WORDS OF PRAISE and appreciation poured out from Virginia officeholders in the days following Wolf's announcement. U.S. Rep. Jim Moran (D-8), who served alongside Wolf for 23 years in Congress, and U.S. Rep. Gerry Connolly (D-11), both expressed gratitude for Wolf's many years spent representing constituents in Northern Virginia, according to statements released by their offices.
"His career in Congress is a testament to what leaders can achieve when they put partisanship aside and find common ground on the issues that matter to the people they serve," said governor elect Terry McAulliffe in an issued statement.
Del. Barbara Comstock (R-34) worked as a senior aide for Wolf's congressional staff from 1991-1995, and commended Wolf as a person of high integrity and great character. "I look forward to the many contributions that I know Frank Wolf will continue to make to the causes of religious freedom and human rights and I look forward to working with him on those issues for years to come."