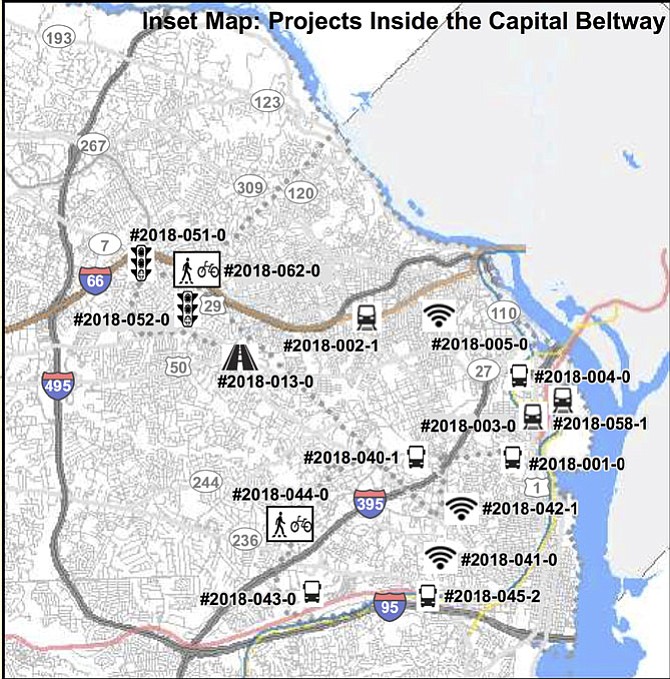 State-level action on April 18 will require Northern Virginia to divert some $110 million over 5 years from other transportation projects, including potentially Alexandria's, for dedicated Metro funding.
In March, the Virginia General Assembly adopted legislation requiring $154 million in annual dedicated funding for the Washington Metropolitan Area Transit Authority (WMATA). This revenue stream, coupled with similar commitments from Maryland and the District of Columbia, will provide unprecedented funding to the ailing transit system, and so is widely lauded.
But the specific sourcing wasn't settled until last week, when the House of Delegates killed two of Gov. Ralph Northam's proposed amendments to the legislation (HB1539/SB856). The amendments would have raised certain taxes, only on Northern Virginians, to pay for part of the new dedicated revenue. No new taxes requires shunting funds instead from the Northern Virginia Transportation Authority (NVTA), which receives certain regional taxes and can issue bonds. NVTA allocates these funds through a competitive process to big transportation-related projects. These especially include bus and rail capacity projects inside the Beltway — for instance, recently, $66 million for Alexandria's upcoming Potomac Yard Metrorail Station — and roadway capacity projects outside the Beltway.
"With the funding change, essentially [NVTA] will have to cut or delay some projects that might otherwise be funded," said NVTA spokesperson Sarah Camille Hipp. With Northam's amendments, NVTA would have had $1.37 billion at its disposal for the period FY18-FY23; now it'll have an estimated $1.26 billion. Ten regional jurisdictions, the Virginia Railway Express (VRE) and NOVA Parks have put forward requests totaling $2.5 billion for 60 candidate projects to compete for that diminished pot. The winnowing process, currently underway, will conclude on June 14.
Alexandria put forward six projects requesting a total of $88 million in NVTA funds. The biggest is bus rapid transit (BRT) in the West End, requesting $61 million. BRT lanes between Landmark Mall and the Pentagon compromis a major chunk of Alexandria's long-term economic development plans.
"We'll be OK for this year," although "this has a significant impact on local jurisdictions," said Mayor Allison Silberberg, Alexandria's NVTA representative. While she applauds dedicated Metro funding in general, "it's a shame" that sourcing through increased taxes didn't pan out. She says the ultimate impact is unknown until NVTA makes its final decision.
Councilwoman Redella Pepper thinks the West End BRT is "really at risk." While the city is covered for FY19, "I really, really worry" about subsequent years, she said. Pepper encourages Alexandrians to attend forums, such as the NVTA public hearing on May 10, in order to "put forward the Alexandria agenda."
"Clearly the [Metro] funding bill will have significant impacts on NVTA funding and the West End Transitway [is] certainly threatened," said Vice Mayor Justin Wilson. "We will work to identify ways to continue the progress on the project in light of the new funding reality."
"If some projects don't get funded at all, that hurts everyone and exacerbates traffic congestion in and around Northern Virginia," said Councilman Willie Bailey. "We will continue to fight to get money back in NVTA."
Yon Lambert, Alexandria's director of transportation and environmental services, is more upbeat, saying: "As of today it is not clear what the full impact of decreased available NVTA regional funds will do to the competitiveness of the West End Transitway. However, this project was previously a strong candidate for funding … Staff is optimistic that it will remain a competitive project in the future, regardless of the overall level of funding."
At this point, the Metro funding bill will become law, whether or not Northam signs it. Not signing it would constitute merely a "symbolic" gesture of disapproval, said Del. Mark Levine (D-45). While Northam could veto the bill, Levine thinks that's highly unlikely and not in Northern Virginia's best interest, as a veto would kill dedicated Metro funding in its entirety.
"The bill as drafted is better than no bill at all," he said.
Though there exists "one more trap door that I hope the Governor takes." Levine thinks Northam could raise the same taxes and appropriate to NVTA through the state's budget process, which remains unfinished. This work-around could conceivably accomplish the same intent, just not through dedicated funding.
Levine says that not crimping NVTA's funding would benefit the whole Commonwealth. Projects that don't make the NVTA cut would probably go on to compete for statewide funds, where they might then elbow out downstate projects.
Find detailed information about all legislation online at lis.virginia.gov.