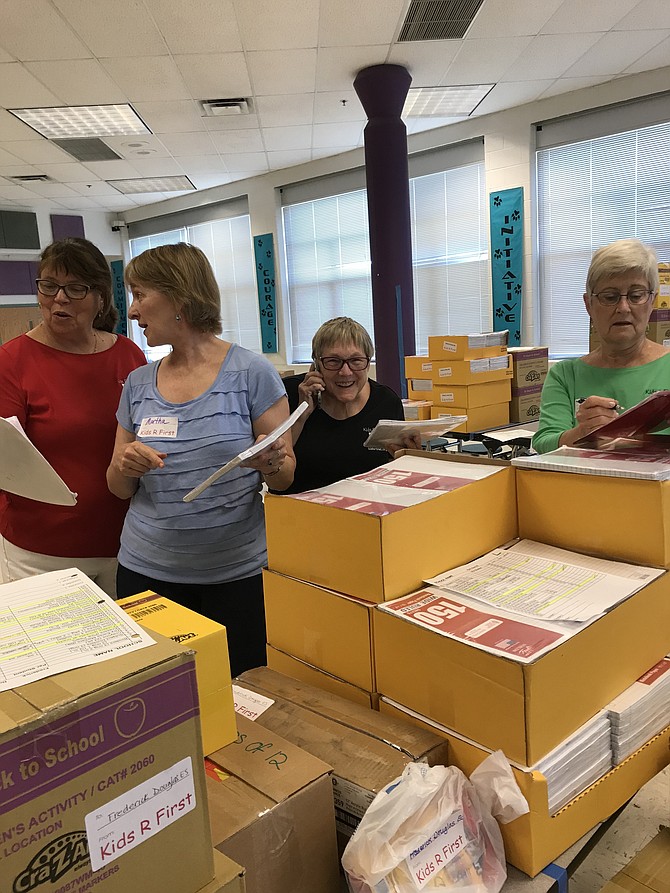 The Reston-based nonprofit organization, Kids R First (KRF) is back for its 20th Anniversary helping needy children in public schools across Northern Virginia through its school supply distribution program. Since its beginning in 1998 through last year, KRF has donated a reported $3.8 million in school supply items to 360,500 children. Its members, many of whom are former teachers, believe that having access to school supplies builds confidence in children to achieve with success.
KRF purchases the supplies to donate using funds from sources such as contributed donations, grants, awards, and their two fundraisers, the Golf Classic held at Hidden Creek Country Club in Reston and their Gift Wrapping Programs for the holiday season and other special occasions.

KRF's two corporate sponsors are paramount to the success of its mission. Office Depot in Reston provides KRF significant discounts on its purchases of school supplies. For every $1 KRF spends at Office Depot, the organization can purchase $4 worth of school supplies. The organization's other significant corporate sponsor is Walmart who gives KRF major discounts on school supplies too.
KRF program makes it possible for the children's supplies are custom-ordered by grade level by each participating school. In doing so, the child has appropriate supplies.
For the 2018-2019 school year, CEO and Founder Susan Ungerer reported KRF is serving 23,500 public school children in Northern Virginia. Breaking the statistics down even further, Ungerer said that this year, KRF is donating the custom-ordered school supplies to 2,350 needy children at seven schools in Herndon and 2,379 needy children at seven schools in Reston.
As the massive distribution, sorting and pick up of supplies per school was beginning to dwindle down at the end of last week, Ungerer looked over at the volunteers. She expressed how proud she was of all who helped in any way with the effort.
Ungerer also announced her pride the Catalogue for Philanthropy had recently chosen Kids R First once again to be "One of The Best" Small Charities. Ungerer called attention to the organization's high fundraising percentage, noting that 98 percent of every dollar donated returns to help the KRF's children.
To find out more about KRF, contact sungerer@kidsrfirst.org.