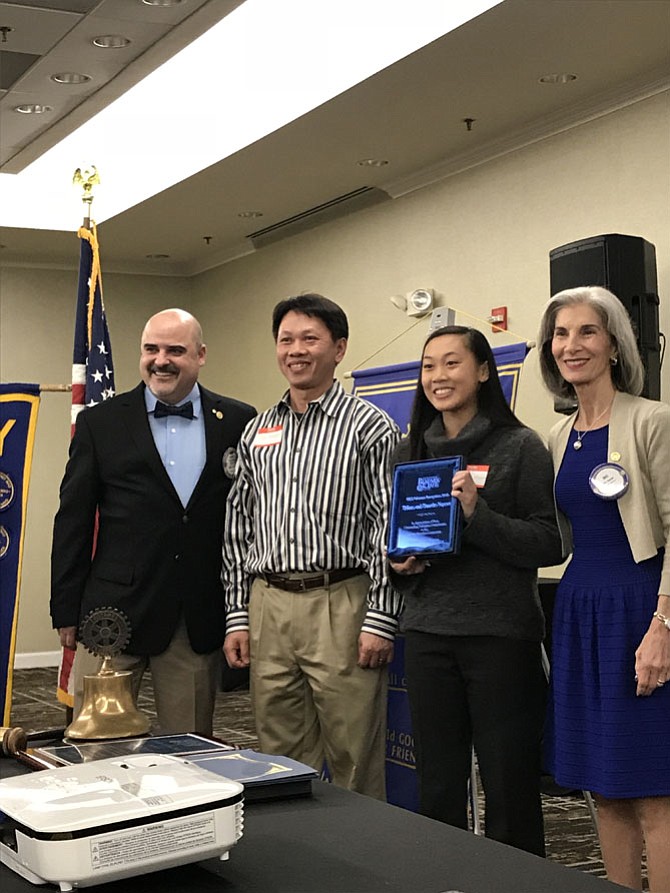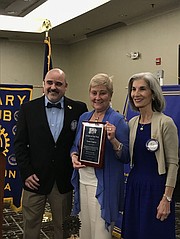 The Rotary Club of Herndon honored 20 individuals, unsung heroes who had spent their time and energies helping to make the local community a better place to live, at their 52nd Annual Herndon Citizen of the Year & School Volunteer Recognition Banquet. The event was held Wednesday, March 7, at the Crowne Plaza Dulles Airport, 2200 Centreville Road, Herndon.
Dee Casio, President of the Herndon Rotary Club, said in her opening remarks, "Researchers who've studied volunteers who give of their time, skills, and funds have found they're happier, more optimistic, about their life and outlive their peers. ... Acknowledgment is so important in reinforcing volunteer efforts, and we are proud and privileged to do that this evening."
Susan Ungerer, Founder and President of Kids R First (KRF) received recognition as the 52nd recipient of Citizen of the Year.
Kurt Rose, Emcee, Rotarian and friend of Ungerer told how Ungerer began collecting school supplies and backpacks for 450 children in two elementary schools in Reston and Herndon in 1998 when she saw the need. "These students were from families struggling financially and often forced to choose between putting food on the table and purchasing the necessary supplies, often costing over $100, needed to start school." In 2017, KRF ordered enough supplies for 32,000 students in need and distributed them to 100 schools in the area.
Herndon Rotary also recognized 19 outstanding school volunteers for 2018. Rose said, "Capital One provided sixteen employees who spent ten weeks volunteering at Herndon Middle School teaching students to code creating computer programs."
The honored volunteers were Megha Agrawal, Josh Bauzon, John Clements, Adan Cortez, Nagaraju Gaddigopula, Megan Gerstbauer, Joseph Goelz, Safkat Islam, David Jaco, Khaled Khalil, Robert Liebowitz, Alex Park, Michael Ross, Archana Santhiraj, Solomon Shockley, and Jessica Ya.
Two other honored volunteers were Tiffany Nguyen and her father, Timothy Nguyen. Tiffany, a Herndon High School student noticed her fellow high school students in need did not have fresh bread available to them on the weekends. With the help of her father and donations from Great Harvest Bread Company in Herndon, every Friday, Tiffany provides students in need at the school with bread to take home to their families.
Karen Joseph, a Herndon High School parent, was the 19th Outstanding School Volunteer to be recognized. Joseph created "Food for Neighbors" when she realized there were people in the community who were hungry. She formed an organization to address the lack of food for these individuals. Joseph and her large crew hand out red bags with the pick up months and days written boldly on tags hanging from the handle. They distribute the bags to individuals and families who want to help by donating food. On the given dates, the bags are picked up, the food sorted into bins and delivered to the high school for needy families.
Casio also recognized the Ruth and Hal Launders Charitable Trust, a significant contributor to the Rotary Dolly Parton Library that provides a free book every month to registered children ages birth to age five living in zip codes 20170 and 20171.
Casio concluded her remarks and said, "Some people serve by donating their time, others by making contributions and many do both. All types of service are of tremendous value. The Rotary Club of Herndon extends its deep gratitude to the many individuals and organizations whose contributions do so much to help our club meet community and global needs."
Looking to make a difference, visit herndonrotary.org