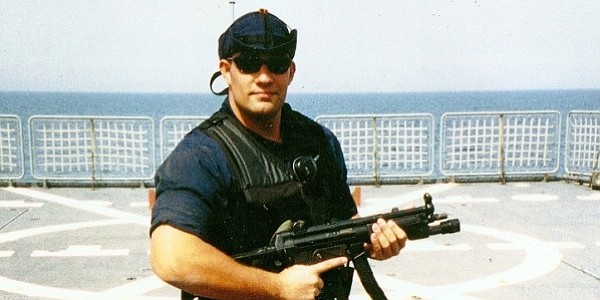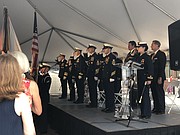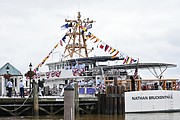 "Petty Officer Bruckenthal defined service above self and we are here today to honor that legacy." —Coast Guard Commandant Karl Schultz
United States Coast Guard Commandant Adm. Karl Schultz joined family members and friends of the late Nathan Bruckenthal, a 1997 graduate of Herndon High School, at the Alexandria waterfront July 25 to commission the USCGC Nathan Bruckenthal, the Coast Guard's newest Fast Response Cutter.
"The name Nathan Bruckenthal is one that is recognized and revered throughout our service," Schultz told the crowd. "Petty Officer Bruckenthal defined service above self and we are here today to honor that legacy."
Among those in attendance at the ceremony were Bruckenthal's sister Noabeth Bruckenthal, widow Patti Bruckenthal and daughter Harper, who was born during the deployment from which her father never returned.
Bruckenthal participated in track and field and the Naval Junior ROTC while attending Herndon HS. He was killed April 24, 2004, when a small boat near the Iraqi Khawr Al Amaya Oil Terminal that he and six others were attempting to board exploded in an attempted suicide bombing.
Bruckenthal, the first Coast Guard member killed in action since the Vietnam War, was posthumously awarded a Bronze Star, Purple Heart and Global War on Terrorism Expeditionary Medal.
At the time of his death, Bruckenthal, who also attended Herndon Elementary and Herndon Middle schools, was deployed with the Coast Guard Patrol Forces Southwest Asia. He had joined the Coast Guard in January 1999 and been in his assignment since September 2002. This was his second tour of duty in Iraq, having previously been deployed there from February to May 2003 and returned in February of 2004.
The 154-foot patrol craft USCGC Nathan Bruckenthal is the 28th vessel in the Coast Guard's Sentinel-class FRC program. FRCs feature advanced command, control, communications, computers, intelligence, surveillance and reconnaissance equipment and can reach a maximum speed of over 28 knots.
The USCGC Nathan Bruckenthal's new homeport will be Atlantic Beach, N.C. The crew voted to adopt as its motto "Bravery in Battle" in honor of Bruckenthal.
"He was always a hero in our mind before he made the ultimate sacrifice," said his father, Rick Bruckenthal. "The last story is the sad story, but also a great story because we don't know how many people's lives he and his crew saved that day."