Each October during National Fire Prevention Week, a solemn ceremony takes place at Ivy Hill Cemetery where a Roll Call of the Fallen is taken to honor firefighters who have given their lives protecting the citizens of Alexandria. This year's ceremony will take on new meaning when the toll of a bell rings out for Michael Conner, the former deputy fire chief whose recruit class first dedicated Ivy Hill's Circle of Honor in 1970.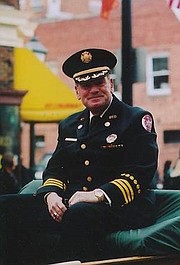 "Ever since I can remember, I wanted to be a firefighter," Conner told the Gazette Packet following his retirement in 2005. "When I was still in high school and too young to join the department, I started as a volunteer at Station 204. Being assigned to the headquarters opened the door for me to become the city's first paid cadet and led to my career in firefighting."
A decorated disabled Vietnam War veteran, Conner died March 23 at Inova Alexandria Hospital. He was 68.
"Mike Conner spent 40 years in service to the residents of Alexandria, serving in many capacities but always with the goal of protecting life and preserving property," said then-Fire Chief Gary Mesaris upon Conner's retirement. "The people of Alexandria have benefitted greatly from his commitment to their well-being."
Born Michael Allen Conner on March 27, 1947, Conner was raised in the Rosemont section of Alexandria. Following graduation from George Washington High School in 1966, he joined the U.S. Coast Guard, serving for four years as a damage control petty officer aboard the U. S. Coast Guard Cutter Hamilton.
Conner's military awards include the National Defense Ribbon, the Vietnam Service medal with a Bronze Star, a Navy Meretricious Unit Commendation, a Vietnam Gallantry Cross Unit Citation, the Vietnam Civil Actions Unit Citation, the U. S. Coast Guard Sea Service Ribbon and a Good Conduct Medal.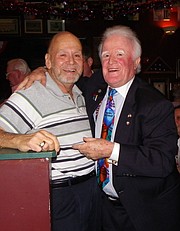 Following his military service, Conner returned to the fire department, rising through the ranks to become chief fire marshal in 1983. At that time he was also appointed by Gov. Douglas Wilder to serve on Virginia's State Building Code Technical Review Board. He was subsequently reappointed by governors George Allen, Jim Gilmore and Mark Warner and served for 13 years as the board's chairman.
Named Fireman of the Year in 1973, Conner was honored that same year with the Recognition of Service Excellence award by the Andrew Jackson Masonic Lodge of Alexandria.
Conner first retired in 1998 but returned to service a few months later when he was hired for the second time as chief fire marshal to lead the Property Maintenance Division of the Code Enforcement Bureau.
As one of the first responders to the Pentagon on Sept. 11, 2001, Conner helped establish some of the command operations that remained in place for several days in the aftermath of the attack.
"I had not seen such carnage since my time in Vietnam," Conner would recall in later years.
Upon his second retirement in 2005, Conner became a licensed private investigator and subject matter expert (SME) in the areas of fire investigation and fire administration. As such, he traveled throughout the country investigating fires and other crimes and civil cases while assisting cities with the evaluation and administration of their fire departments.
Conner was a charter member and past president of Local 2141 of the International Association of Fire Fighters in Alexandria. Other affiliations included the United States Fire Administration; the National Fire Protection Association, where he helped develop nationally recognized training and testing standards for fire inspectors; the International Association of Fire Chiefs; the International Association of Arson Investigators; the Friendship Veterans Fire Engine Association, where he served as president emeritus; the American Legion; the Veterans of Foreign Wars; the Henry Knox Field Masonic Lodge #349; the Alexandria Scottish Rite Bodies; the U. S. Coast Guard Combat Veterans Association and the Alexandria Retired Police, Fire and Sheriff's Association.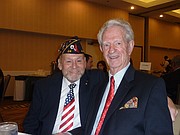 Conner is survived by his wife of 42 years, Linda, four children, Michael Allen, Jr., of Northern Virginia, Margaret Christine, of Marietta, Texas, Michael Scott of Prince William County and Suzanne Marie, of San Antonio, Texas, seven grandchildren and three great grandchildren. He was predeceased by his parents, James and Florrie Conner, and his brother, James Conner Jr., and sister Joyce Conner Baggott.
The family will receive friends on Thursday, March 31, from 2-4 and 6-9 p.m. at Everly Wheatley Funeral Home, 1500 W. Braddock Road, where a funeral service will be held on Friday, April 1 at 11 a.m. Interment will follow in the Ivy Hill Cemetery Circle of Honor. In lieu of flowers donations may be made to Rolling Thunder, Chapter2 Ohio, P.O. Box 485, Lakemore, OH 44250.
"I can remember as a kid seeing a sign stretched across King Street that said 'Alexandria reaches 17,000,'" Conner recalled recently to a friend. "I know how lucky I have been to be a part of the city's growth and to be blessed with such a special family and loyal friends. God has truly been good to me."