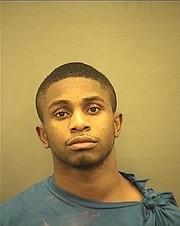 A little over one year after his death, on July 26 Desmond Roseboro's killer, Demarcus Robertson, was convicted of manslaughter and unlawful wounding. The jury recommended Robertson to 20 years in jail, the maximum sentence. The conviction brings the story of two tragic killings in Alexandria to a close.
Roseboro grew up in Alexandria, graduating from T.C. Williams High School and training in the Alexandria Seaport Foundation. Donna Walker James, whose husband had hired Roseboro off a recommendation from the Seaport Foundation, said he could often be quiet around people but was always very polite and kind. After working in the Seaport Foundation, Roseboro worked in heating and air conditioning. Walker James said Roseboro was driven, quickly learning the ins and outs of the trade and was able to handle going out on jobs on his own.
Walker James said she also remembered Roseboro's long and well-maintained dreadlocks, which was a point of pride for several members of his family given that his aunt was a local hairdresser. But after Roseboro's cousin Julian Dawkins was killed by an off-duty Arlington Police Officer, Craig Patterson, in Alexandria, Roseboro and several of his family members cut their hair in his honor.
The day of Roseboro's death, he'd been attending a memorial service for Dawkins. After the service, Roseboro went to a party at the Extended Stay America off Eisenhower Avenue. It was at the party that two women and Roseboro were shot by Robertson. The women survived, but Roseboro died in the hospital.
Commonwealth Attorney Bryan Porter said formal sentencing will be held on Sept. 20, 2018.