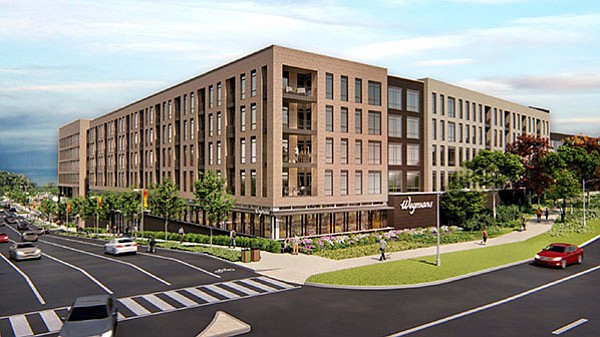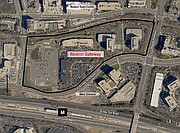 At their most recent meeting held July 31, the Fairfax County Board of Supervisors approved Brookfield Properties' 4 million-square-foot redevelopment of the 36-acre Reston Crescent site. It is the first mixed-used development approved south of the Reston Town Center Metro Station.

Wegmans to Anchor Reston Crescent
According to Fairfax County, Reston's first Wegmans will anchor the newly approved Reston Crescent development and will be its first building. The grocery store will occupy the building's ground floor.
The building's architects are MV&A and Alexandria-based LandDesign. On their website, MV&A describes the Wegmans as urban-format topped by 380 apartments. "That building, to include a screened garage with more than 1,000 parking spaces, will front Reston Parkway, just south of the Dulles Toll Road. ... As currently envisioned, Reston Crescent will total 4.16 million square feet of mixed-use, including the two six-story office buildings there now. The property's existing surface parking and open space will be developed over time with about 3.77 million square feet of new construction, to include up to 1,721 residential units, 1.5 million square feet of office, 380,000 square feet of retail and a 200-key hotel."
The overall project will offer at least a half dozen park spaces — a dog park, fitness area, neighborhood park, Gateway Plaza and others," cites the MV&A website.
Fairfax County reports that three mid-rise buildings will make up the project's residential development and 15 percent of the units will be set aside as affordable housing.
Up to Seven Acres in Parks at Reston Gateway
The Fairfax County Board of Supervisor also approved the Reston Gateway project on July 31. It is to be developed by Boston Properties on a 33-acre site between the Metro rail stop and Reston Town Center. The property is on the north side of Sunset Hills Road between Town Center Parkway and Reston Parkway and will house 4.8 million square feet in offices, apartments, hotels and retail at the north entrance to the Reston Town Center Metro Station.
It will be the first major development north of the Metro Station. The redevelopment will create nine blocks with nine new buildings. The site is currently developed with two 9-story office buildings called Discovery Square and the two-story Reston Corporate Center. The Discovery Square buildings will remain, but the corporate center will eventually be torn down.

Boston Properties will construct the project in two phases. According to Fairfax County, the first phase will bring four new buildings to the property's west side at the intersection of Sunset Hills and Town Center Parkway, erecting 2.1 million square feet.
Phase 1 of the Reston gateway Project includes a: "28-story office building with 10,700 square feet of retail and restaurants, 22-story office with 5,500 square feet of retail and restaurants, 14-story hotel with 240 rooms, plus retail and restaurants, 44-story residential building with 600 units," cites Fairfax County.
Boston Properties will also extend Library Street south from Bluemont Way to Sunset Hills Road. Fairfax County states, "Two new roads, Century Street and Founders Boulevard, will run east to west, connecting Library Street to Town Center Parkway. Two new roads will bisect the development north to south, linking to Sunset Hills Road. Sunset Hill Road going westward will be widened to three lanes with a shared or dedicated right-hand turn lane onto Town Center Parkway."
The County points out that 30 percent of the project will be open space, with up to 7 acres in parks, including a large central park. "It could build a full-sized, synthetic turf field offsite at the property that would be dedicated to the Fairfax County Park Authority. Or, it could build a new field on top of the Purple Garage at Reston Town Center. Or the developer could contribute money to build a new field. As a final option, Boston Properties could dedicate 50,000 square at Reston Gateway for a performing arts center in lieu of the field," states Fairfax County.