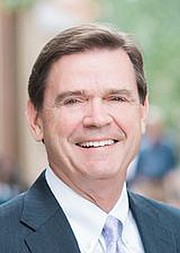 With community business leaders, governance, and non-profits, McEnearney Associates gathered to celebrate the company's 38th anniversary at Hummingbird restaurant on Wednesday, July 11, and launch its #WeAreAlexandria campaign.
McEnearney Associates have created strategic alliances with several hundred organizations to help build and strengthen the Alexandria community for almost four decades. The #WeAreAlexandria campaign celebrates McEnearney's continued commitment to improving Alexandria through relationships in the communities that McEnearney Associates live and work in.
Betsy Micklem of ACT for Alexandria said, "McEnearney Associates is a long standing, respected business leader in Alexandria and their support for the work we do as our community foundation is vital. Their network of agents care deeply about our community and they understand that when the community thrives, business thrives and that supporting local nonprofits is good business. We could not do the work we do without the support of partners like McEnearney."
Many key stakeholders attended the event to celebrate McEnearney's commitment to Alexandria. Not only has McEnearney become an integral part of building the Alexandria community over the years, many of the 150-plus Alexandria Associates of McEnearney, such as Jen Walker (Legend of Alexandria) and Babs Beckwith (ACT of Alexandria Board member), have also made commitments to continue supporting the organizations that make a difference in Alexandria communities.
At the Hummingbird event, Dave Hawkins, executive vice president and managing broker of the Alexandria office, addressed the crowd: "We are very proud to be engaged in Alexandria, to participate in many events, and organizations that do great work…all of you were invited because you do the same thing. Whether through governance, business, philanthropy or volunteer work, we contribute to the city in one form or another. We share the same goal to make Alexandria the best possible place to live and work. And, it takes people who are committed to make that happen."
To meet the team of Alexandria Associates and to learn more about their commitment to Alexandria communities, visit www.WeAreAlexandria.com.