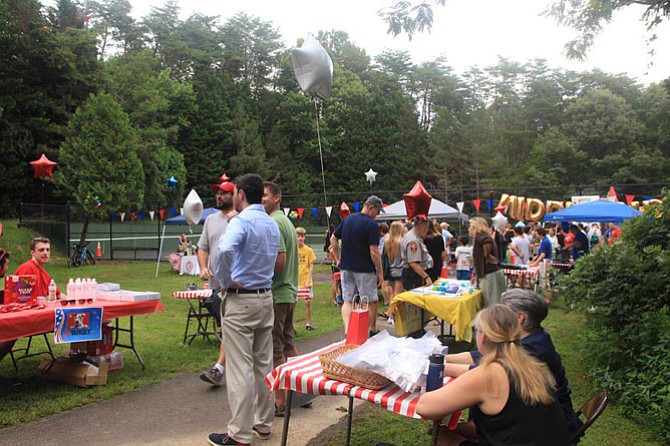 Fairfax — The smell of grilled burger and smoking coals mixed in the air with live music Tuesday night in Middleridge Park during the community's National Night Out. Hundreds of Middleridge locals came to celebrate their community at the Middleridge Civic Association's annual picnic and festival.
"My kids are having a blast. [They've got] snow cones, they've got fireman helmets, they've got badges from the police," Jenny Scherff listed, a new resident in Middleridge from Alexandria City.
Photo Gallery
Middleridge Celebrates 'Night Out' P1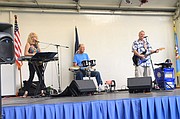 Click Photo for Flash
The evening was free for attendees, offering free rides, a bouncy house, ice cream, drinks, face painting, meet and greet local first responders, and more. The yearly event is intended to "take back the night" by bringing neighbors together, promoting local organizations, and opposing crime in neighborhoods, according to Catie Morales, former president of the MCA.
"You can't beat free. You can't beat two hours of family fun," she said. "It brings people together."
"[My favorite part of the night is] seeing all my neighbors and all the kids that are growing up so quick and just meeting with people. It's a wonderful night. Great music, good food, free sodas, and just watching the kids have a good time," said Rick Jones, past president of the MCA.
Middleridge does not have a homeowner's association, so instead the Civic Association was founded in 1973. According to their website, the MCA's purpose is to protect "the interests of homeowners" and be a "voice for [the] community to local and state governments." Voluntary members are asked to give $25 in dues yearly to help support events like the National Night Out, halloween parades, Easter egg hunts, Christmas house lights contests, and movie nights.
Photo Gallery
Middleridge Celebrates 'Night Out' P2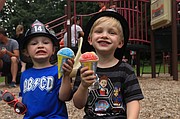 Click Photo for Flash
"I love that there's no homeowners association. That was actually a huge draw for me. But that said, to me this is a big thing that the Civic Association manages to put together, and it's impressive what they do," said Scherff.
For the Middleridge National Night Out, the civic dues and donations from local vendors and sponsors helped make the night possible.
"We do very well. We're very fortunate. We have a very high membership rate and with that money, we run these and other activities throughout the year," said Jones.
David Simon, a 3-year-resident and current MCA president, praised the Middleridge community for being a safe, family-friendly neighborhood. He credits the National Night Out and the MCA volunteers as responsible.
"It's such a great opportunity. I wish more communities would do it. I think we would have less problems in our communities if we had more nights out together."