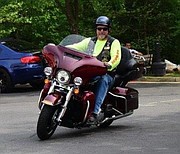 One minute wearing a chef's white hat, the next minute a motorcycle helmet, Culpepper Dining Services Director Ray Riddle will ride his Harley motorcycle carrying the flag that has been escorted across the nation beginning on Memorial Day.
The Patriot Tour is to honor America's military members and raise support for those wounded in service. The tour is arriving from Manassas and will stop at Culpepper Garden at 11:30 a.m. August 15 to honor the estimated 50 residents of Culpepper Garden who have served in the military.
Each year a number of riders take turns handing off one flag as it travels across 48 states for over 110 days and 14,500 miles.
"Ray has carried the flag on a stop here for a couple of years. The residents were tickled pink," said Linda Kelleher, executive director of Arlington Retirement Housing Corporation (ARHC). "We will have pins for our veterans who show up in the parking lot to watch the motorcycle riders arrive." There will be an opportunity for the Culpepper residents to have their pictures taken.
Riddle is riding in honor of his father, uncle, and father-in-law, who are all three veterans of WWII, and also his brother-in-law. After the stop at Culpepper Garden, the group will head to Darlington, Maryland to hand off the flag.
Culpepper Garden is an award-winning non-profit providing high-quality affordable housing and services to low-income older adults.