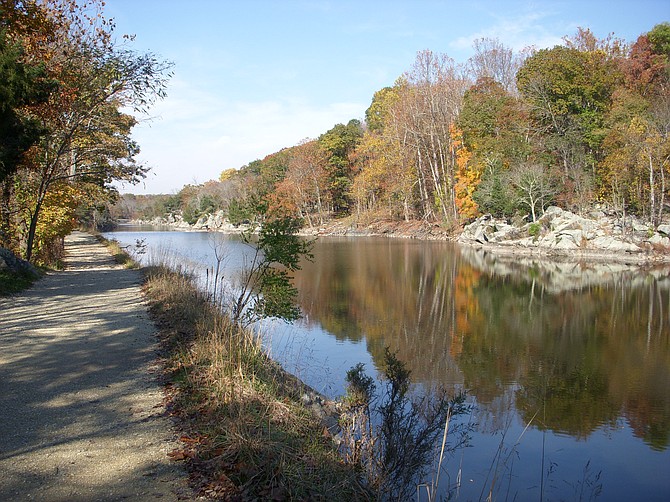 Ever wonder why you are attracted to Potomac? Why you choose to live here or choose to stay? You may not see it on first arrival but Potomac has a history defined and shaped by water — part of a long river valley. Its strategic planning over much of the last century has been urged forward by a vital imperative to protect the water we all need to sustain life.
The geographic area we know as the Potomac Subregion is defined and named for the mighty Potomac River, settled by Paleo-Indians some 12,000 years ago. Great Falls marked the fall line; a point in the river where canoes had to leave the water and portage around the powerful falls. It became a gathering place for native peoples; a place to trade goods and exchange information. In the early 1700s, European explorers arrived and settled. They cleared the forests and grew tobacco on large plantations. Tobacco cultivation quickly depleted soil nutrients.Local planters turned to grains. Mills sprung up on streams leading to the Potomac. Our roads still bear their names. Names such as Glen Mill, Dufief Mill and Query Mill.
In 1828, President John Quincy Adams broke ground for the C&O Canal near Little Falls. It was envisioned as a major commercial venture. By 1831, there were 20 miles of canal in use from Georgetown to Seneca Here, a distinctive red sandstone was quarried and the canal facilitated movement of it down river. Many Canal lock houses and most of the aqueducts were built of Seneca sandstone. Construction of the Washington Aqueduct in the 1850s ensured clean drinking water from above Great Falls. Also by 1850, the C&O Canal had extended to Cumberland, giving access to rich veins of coal. The canal became a primary transportation corridor, supporting a thriving commercial culture of canal boats pulled by mules moving farm produce, building materials, flour, coal and finished goods up and down the 180-plus mile length.
Despite the Civil War, the C&O Canal continued to operate and by the 1870s it began to make some profit in tolls and tonnage moved. More than 500 boats were plying the canal, carrying mostly coal. But it was not to last. By the 1880s, railroads had taken the lead in transporting goods, and they could carry coal to the deeper harbor in Baltimore.
In June of 1889, a devastating flood tore through the Potomac River valley. The destruction far exceeded any ability of the canal company to borrow for repairs. Canal boats, lockhouses and the vital infrastructure itself had been swept into the river. The canal lay idle all summer and fall of 1889 and didn't operate at all in 1890. Then came a savior in the form of the B&O Railroad which took over and operated the canal into the early 1920s even as profits diminished. Gradually, it declined and only a lower portion was kept watered; just enough to supply water to mills in Georgetown.
It was 1926 when the idea of a Federal highway on the canal right-of-way was first raised but B&O Railway opposed it. The Great Depression changed the conversation because President Franklin Roosevelt had an uncle who was chairman of the National Capital Park and Planning Commission. He wanted a project for the Civilian Conservation Corps. B&O owed money and wanted to borrow further so the Federal government was able to purchase the canal for $2 million in 1938. Work started and the first 20 miles was restored. World War II and a devastating flood in 1942 washed away the restoration. When the war ended, the Army Corps of Engineers unveiled a plan to build a series of 14 dams to control river flooding. One, proposed for just above Great Falls would have flooded the river valley and backed up the Potomac nearly to Harpers Ferry. Along came another proposal for a parkway similar to Skyline Drive.
Meanwhile, Potomac had remained a small village reached by dirt roads, initially known as Offutts Crossroads. After World War II a new breed of settlers began to arrive. They wanted to get out of the city, raise children in the country and were willing to put up with inconveniences like lack of electricity and roads still little more than wagon tracks. The land was exhausted by farming. The area had flirted with gold mining after the Civil War. Land was inexpensive. The forests, once cleared for farming, were returning along stream valleys leading to the river. Potomac was green, open and appealing to courageous newcomers. There were still farms and orchards but during the 1950s and '60s many between Potomac Village and Rockville were developed for housing. The first vicinity plan for Potomac/Travilah was adopted in 1967. It was designed to preserve the rural-residential character with open space and low density zoning. It recommended creating several stream valley parks.
In 1980, a Potomac Subregion Plan was adopted. Most recently revised in 2002, the current plan consistently upholds and expands our environmental framework with an imperative to protect and enhance natural resources.
Our subregion is considered a transition between the urban down county and the 93,000 acre Agricultural Reserve to our north. We are one of two residential "green wedges" in the county. Both are critical to protecting public water supplies. Designating many of our stream valleys as county parkland helps preserve the wetlands and forests needed to filter stormwater runoff and provide habitat for wildlife. The water filtration plant on River Road provides nearly all drinking water to Montgomery County. All 68 square miles of the Potomac Subregion drain to the Potomac River. The Watts Branch begins in Rockville but empties into the Potomac just upstream of the filtration plant.
Today, more than ever before, our lives are bound to waters of the Potomac. We are fortunate that in 1954, Supreme Court Justice William O. Douglas penned his famous letter to the Washington Post after they had endorsed the highway plan, inviting them to join him on a walking tour of the towpath — starting the movement to preserve it. Parkways and dam ideas still surfaced but in January 1971, The C&O Canal was designated a National Historical Park. We are fortunate. Geology, history, good planning and some visionary people make it possible for us to experience history. We can walk or bike to Cumberland or Georgetown on the towpath. We can kayak and canoe. We can visit the Great Falls; the remains of a red sandstone quarry at Seneca and ride a canal boat drawn by mules. We have access to endless trails in an array of parks. American poet Mary Oliver once wrote "A lifetime isn't long enough for the beauty of this world." We are fortunate to live within so much of that beauty and call it home.
Ginny Barnes is an artist, environmental activist, and sometime writer. She served on the 2002 Master Plan Advisory Group and is currently Environmental Chair and President of the West Montgomery County Citizens Association (WMCCA) which was founded in 1947.