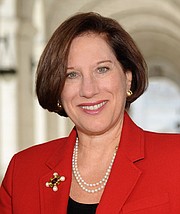 Julie Coons, CAE will serve as the Northern Virginia Chamber of Commerce's next president and CEO effective Sept. 10.
Coons currently serves as chief operating officer of the Council of Better Business Bureaus based in Arlington. She brings to the Northern Virginia Chamber diverse experience leading regionally-focused business organizations, guiding financial and brand transformations, and successfully advocating for business in local, state, national and international arenas. Among her leadership roles, she served previously as president and CEO of the Electronic Retailing Association and, prior to that role, as president and CEO of the Maryland Tech Council.
The selection of Coons as the chamber's next president and CEO comes after a national search facilitated by The McCormick Group, a national executive search consulting firm, and led by the chamber's Search Committee, chaired by Kathy Albarado, CEO of Helios HR.
"After a comprehensive search process, we are pleased to have identified the best individual to lead the Chamber into its next season of growth, innovation, and member service," said Jennifer Siciliano, chief communications and external affairs officer, Inova, and chair of the Northern Virginia Chamber Board of Directors.
"The Northern Virginia Chamber has an outstanding reputation serving and representing Northern Virginia's robust business community," said Coons. "This is an exciting time for Northern Virginia and Greater Washington, and the chamber is well positioned to develop new and exciting opportunities for businesses from across our region to engage, interact, and lead."
The Northern Virginia Chamber of Commerce, the "Voice of Business in Northern Virginia," represents over 650 local employers with more than 500,000 regional employees. For 90-plus years, the Northern Virginia Chamber has been working hand-in-hand with companies in the region to build a strong business community. To learn more about visit http://www.novachamber.org and follow the Northern Virginia Chamber on Twitter: @NOVAChamber
UPCOMING NOVA CHAMBER EVENTS
Northern Virginia Regional Elected Leaders Summit, Aug. 29, at 8 – 10 a.m., Waddell Theater, Join the Northern Virginia Chamber of Commerce, Alexandria Chamber of Commerce, Arlington Chamber of Commerce, Loudoun County Chamber of Commerce, Prince William Chamber of Commerce, and the Northern Virginia Regional Commission for a roundtable featuring the mayor of the City of Alexandria, chairs of Fairfax, Loudoun, and Prince William counties, as well as the vice chair of Arlington County.

Capital Region Business Forum, Sept. 6, at 7:30 – 9:30 a.m., Hilton McLean Tysons Corner, Virginia Gov. Ralph Northam, Maryland Gov. Larry Hogan and D.C. Mayor Muriel Bowser will discuss their plans to work cooperatively to bolster the regional economy.

2018 Virginia Senatorial Debate, Sept. 26, at 5 – 8 p.m., Capital One Bank, between U.S. Sen. Tim Kaine (D) and Chairman at-large of the Prince William Board of County Supervisors Corey Stewart (R). Chuck Todd of NBC's Meet The Press, will moderate, to be televised live on NBC4.