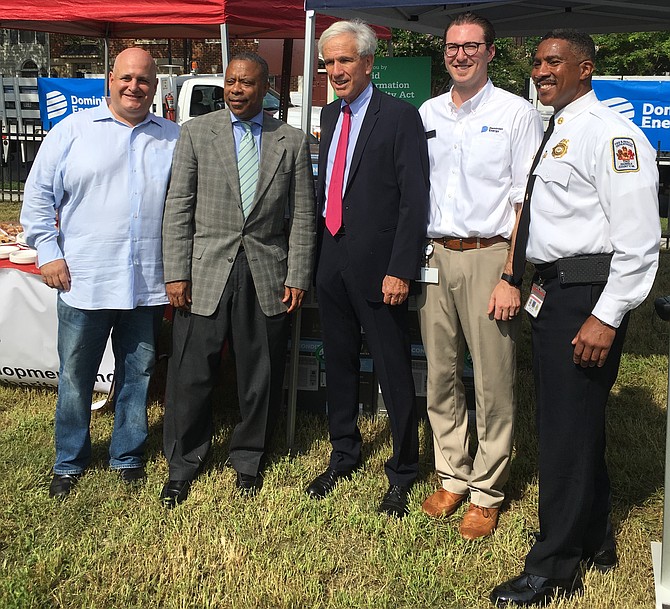 In the fittingly nasty heat last Thursday, Aug. 16, Dominion Energy donated 156 window air conditioning units to the Alexandria Redevelopment and Housing Authority (ARHA).
ARHA administers federal housing programs, including public housing and "Section 8" vouchers, locally. While some of its properties have central air conditioning, Samuel Madden and Andrew Adkins in Old Town don't. Until Dominion's donation, Madden and Adkins tenants have been left to purchase their own air conditioning units.
Older people "remember when air conditioning was thought of as a luxury," said Bill Murray, a Dominion executive. "What we've come to find, actually, is that it is just as dangerous to lack cooling as it is to lack heating. That's still something that public policy is catching up to."
"Children, the elderly, and people with chronic conditions are usually the first to suffer from the heat. Heat exhaustion, cramps, or — in extreme cases — heat stroke can result from prolonged exposure to these temperatures," according to the Alexandria Health Department.
The donated air conditioning units, plus funding to operate them, come through Dominion's EnergyShare program. EnergyShare, which has expanded since its establishment in 1982, provides bill assistance and energy upgrades to low-income persons, seniors, persons with disabilities, and veterans. Dominion distributes these benefits through partnerships with public agencies and nonprofits — for example, Alexandria's Department of Community and Human Services, Rebuilding Together, and the Salvation Army. Starting in FY 2019, which began July 1, Dominion committed $13 million per year for 10 years, as required by Virginia's Grid Transformation and Security Act, a new law.
EnergyShare funding comes from voluntary sources, including shareholders' after-tax profits, meaning "they can't write it off," said state Sen. Dick Saslaw (D-35), who represents Alexandria's westernmost part. Customers can also tack donations onto their monthly bills.
"I just want to thank Dominion and ARHA for their consideration of residents. It's good for residents to be able to be in cool units, especially some of the units that were outdated and haven't been redeveloped yet," said Kevin Harris, president of the ARHA Resident Association. "I think most of the residents have purchased their own [air conditioning] anyway, especially at this point." But some residents he spoke to "were excited, because some of theirs are outdated, and it's always good to get a new [air conditioning] unit that's functional."
"Public servants have a responsibility to ensure that city residents can live in safety and comfort, especially during dangerously hot summer months," said Councilman Willie Bailey. "My family got their start in this city, right here [in public housing]. My parents knew that affordable and safe housing was important to the wellbeing and health of the family. Without adequate housing, families have trouble managing their daily lives. ARHA paved the way and helped us with life skills that allowed us to be independent. Back in those days, it took a village to raise a child, and I'm so happy to see that village is still up and running with Dominion Energy [doing] their part. … This shows you how important public-private partnerships are to the city."
For more information, visit www.dominionenergy.com/community/energy-assistance/energyshare.