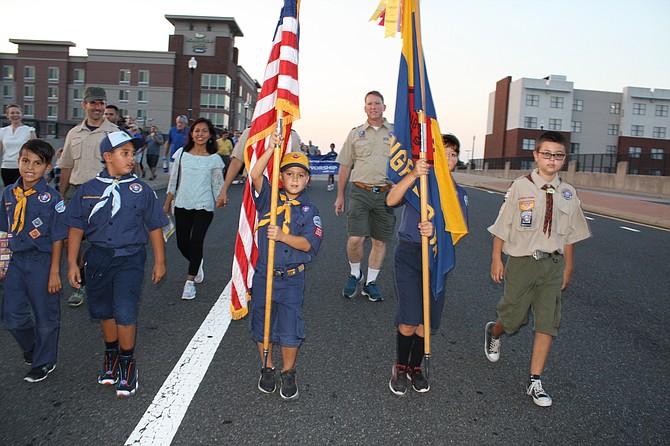 Springfield — As they approached the crest of the Veteran's Bridge in Central Springfield, the smiles were as prominent as the scout troops, the bikers and the American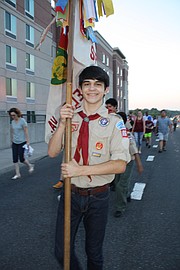 flag. Springfield's 18th Bridge Walk went without a hitch, and cemented the sense of community and cooperation this event has been famous for.
"If you Googled 'sense of community' this is what would pop up," said Sharon Bulova, the Fairfax County Chairman of the Board.
Colonel Michael Greenberg, the Garrison Commander at Fort Belvoir, shared the feeling. "Springfield has created a welcoming, supportive environment," he said.
What was once an at-grade intersection at Old Keene Mill Road and Amherst Avenue, the bridge was built in the 1999-time frame as part of the massive Springfield Interchange project that untied a traffic knot at the interchange of I-95 and 495.
Then-supervisor Dana Kauffman started the walk with a handful of civic figures and it grew from there. "It expands every year," said Supervisor Jeff McKay (D-Lee).
This year, there were several battalions from Fort Belvoir, Boy Scouts, Cub Scouts, the Springfield Woman's Club, motorcyclists and nearby residents taking part in the march which ended at the American Legion hall #176.
Along with McKay and Bulova, there was Sen. George Barker and Del. Vivian Watts.
Transportation-wise, there are a couple of projects in the hopper that officials are eyeing to ease congestion in this busy area. The transit center in Central Springfield, the widening of Rolling Road, and the extension of Frontier Drive are in the works. "There are a lot of things like that that can make a difference," Barker said.