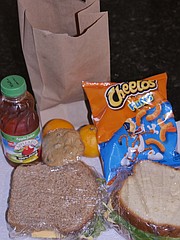 John Churchman of St. George's Episcopal Church and Carol Kiranbay of St. Andrew's Episcopal Church stand ready to serve the bagged meals and hot dish to homeless gathered at St. George's on Tuesday, Nov. 27. The homeless clients will begin lining up inside the church for the meal service, which begins at 6 p.m.
The bagged meals had been prepared by volunteers off site and delivered to the church. They would be supplemented by a hot dish, which had been prepared by the chef at A-SPAN.

This program is part of A-SPAN's work on the streets in Arlington that has been providing bagged meals seven days a week since 1988 when A-SPAN was started by Lori Rinker. Volunteers purchase the supplies and groceries needed to make 50 bagged meals, which is estimated to cost the volunteer about $150. Often groups of neighbors or friends and families or Scout Troops make it a project to prepare the sandwiches and fill the bags with a sweet and a savory snack, a soft fruit and a water or juice. Some volunteer on a regular basis and others once in a while.
Scott Miller, A-SPAN senior director of development, says 2,128 volunteers provided 10,180 volunteer hours in 2017 and served 36,359 meals. Volunteers are required to complete a Volunteer Orientation Session before they are able to sign up for volunteering shifts. For more information contact Ina Gonzalez at igonzalez@a-span.org.
In addition, during the holiday season A-SPAN sponsors a gift giving initiative for their homeless clients. The goal this year is to provide all of the clients in Permanent Supportive Housing at the Homeless Services Center with holiday presents. Each sponsor receives the wish list of one of the clients, and can choose to provide 1-2 items from the list. Example wish list: socks, vacuum cleaner, boots, pillows, Giant gift card. The items may be dropped off at the Homeless Services Center at 2020A 14th Street N by Dec. 17 in order to allow the Permanent Supportive House Case Managers sufficient time for delivery in time for the holidays. The items should be labeled with the client's name and can be delivered either wrapped or unwrapped. If you wish to participate in this yearly tradition, contact Ayana Bellamy at abellamy@a-span.org.