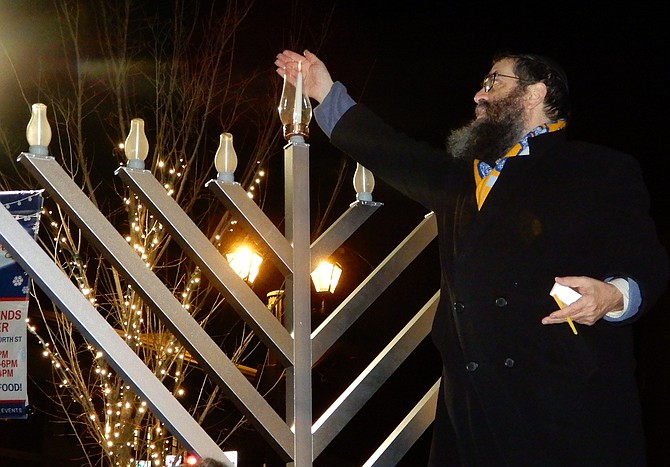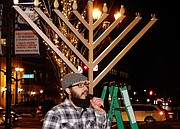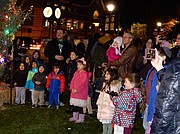 About 70 people attended the Light Up Fairfax event, Monday night, Dec. 3, in Old Town Square. The fun included potato latkes with applesauce, jelly doughnuts, chocolate "gelt" and performances by a Jewish rapper and a juggler.
The highlight was the lighting of the giant menorah. First, though, came a few words from City Mayor David Meyer, Rabbi Sholom Deitsch of Chabad Lubavitch and U.S. Rep. Gerry Connolly (D-11).
"The light we light tonight is for hope for peace in the world, equity, and justice for all people," said Meyer. "We affirm our diversity and our commitment to our spiritual lives."
Deitsch said that, in light of the recent, tragic shooting at a Pittsburgh synagogue, he appreciated the City holding this event and showing its support for Judaism. Connolly then told the ancient story of the Maccabees defeating the Greeks and how the small amount of oil the Jews had miraculously burned for eight days, instead of just one.
"Here we are, 2,000-plus years later, and we still have to face prejudice," said Connolly. "And I want you to know, the hatred of a few won't divide us – the community stands with you. With effort, love will always triumph over hatred and fear."
Before lighting the menorah for the second night of Chanukah, the rabbi gave those attending the ceremony candles to light. "Chanukah says, 'Go out into the darkness, where winds are trying to extinguish the flame, and do your part to keep the candles burning,'" said Deitsch. He then thanked the mayor and City Council members for being there and for "making sure there's peace and freedom for each person in the community to serve as they wish."